New Year's noodles (New Horizons)
From Nookipedia, the Animal Crossing wiki
"In Japan, many celebrate the new year with toshikoshi-soba ("year-passing soba") for good luck. The noodles' length is a symbol of long life, and the ease of cutting them represents cutting away misfortunes."
— Event description
The New Year's noodles is a miscellaneous furniture item in Animal Crossing: New Horizons introduced in the 1.6.0 Free Winter Update. As a miscellaneous item, it can be placed on either the ground or on the surfaces of tables and other similar furniture items that have surfaces for items. Since version 2.0, the New Year's noodles is edible and by eating it, the player will earn five energy points to be able to relocate trees or break rocks.
The New Year's noodles can be obtained from Nook Shopping for

 1,200 Bells from December 22 to December 31[nb 1] during the Ōmisoka Nook Shopping seasonal event. This item can only be ordered from the catalog while its seasonal event is ongoing.
No villagers have this item in their home.
In Happy Home Paradise, no villagers or facility unlock this item for designing. It can only be used once the player's catalog is unlocked after completing the 27th vacation home.
Gallery
Real-world information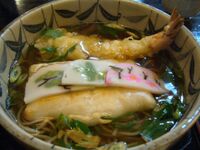 Toshikoshi soba (年越し蕎麦/としこしそば, Toshikoshi soba?) is a Japanese dish served around ōmisoka, on December 31st, as a signal for good luck. It is primarily made with soba (そば/蕎麦, soba?), a thin noodle composed from buckwheat that can be easily cut when eating, which represents the idea of letting go of hardships of the year. Some traditions also hold the belief that a long soba noodle symbolizes a long life.
Toshikoshi soba was first served during the Edo period of Japan, when merchants held a custom of eating Misoka soba (みそかそば, Misoka soba?). Various regions in Japan often serve different type of toshikoshi soba, and either serve the noodles hot or cold. For instance, tempura soba is a popular variation of the dish, served with soba noodles, shrimp for a long life, and fried tofu for good luck.[1]
More information on this topic is available at Wikipedia.
In other games
Notes
↑ Prior to version 2.0, this item was available from December 26 to December 31.
References