Olivier salad (New Horizons)
From Nookipedia, the Animal Crossing wiki
| | | |
| --- | --- | --- |
| | Olivier salad |  #1,150 |



Buy price
Sell price
 1,000 Bells
 250 Bells
Height
Size

1.0 × 1.0

Obtain via
 Nook Shopping (Seasonal)

Edible
Yes (provides 5 energy points)
Customize
No customization options.
HHA themes
Living room / Kitchen
HHA points
201
Colors
Variations

Names in other languages

 

オリビエサラダ

 

奥利维耶沙拉

 

salade Olivier

 

ensalada Olivier

 

insalata russa

 

салат Оливье

 

올리비에 샐러드

 

奧利維耶沙拉

 

salade Olivier

 

ensalada rusa

 

Olivier-Salat

 

huzarensalade
"This salad, a staple of New Year's celebrations in Russia, came about at the end of the 19th century. It was invented by Lucien Olivier, but since his recipe wasn't publicized, nobody knows the "official" way to make it."
— Event description
The Olivier salad is a miscellaneous furniture item in Animal Crossing: New Horizons introduced in the 1.6.0 Free Winter Update. As a miscellaneous item, it can be placed on either the ground or on the surfaces of tables and other similar furniture items that have surfaces for items. Since version 2.0, the Olivier salad is edible and by eating it, the player will earn five energy points to be able to relocate trees or break rocks.
The Olivier salad can be obtained from Nook Shopping for

 1,000 Bells from December 22 to January 31[nb 1] during the New Year's Eve Nook Shopping seasonal event. This item can only be ordered from the catalog while its seasonal event is ongoing.
No villagers have this item in their home.
In Happy Home Paradise, no villagers or facility unlock this item for designing. It can only be used once the player's catalog is unlocked after completing the 27th vacation home.
Gallery
Real-world information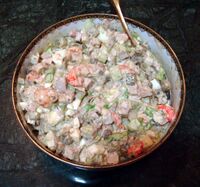 Olivier salad (салат Оливье salat Olivye) is a Russian dish often served as one of the main dishes during the Novy God celebration. Though the ingredients vary, it is often made with potatoes, carrots, dill pickles, green peas, eggs, celeriac, onions, a meat product (commonly chicken or bologna sausage), and tart apples. Salt, pepper, and mustard are added to enhance the flavor of the dish, and mayonnaise is served as the dressing of the salad.
The dish was originally invented in the 1860s by Lucien Olivier, a Russian cook from Belgian and French descent, who served it for the Hermitage, a popular restaurant in Moscow. A sous-chef of Olivier, Ivan Ivanov, later tried to steal the recipe and make his own version of Olivier's salad, but reports by gourmand noted that Ivanov's salad dressing had less quality compared to Olivier's. Ivanov would later sell the recipe to various publications across Russia, making the dish popular as a result.
More information on this topic is available at Wikipedia.
Notes
↑ Prior to version 2.0, this item was available from January 1 to January 15.
References