Starry-sky wall (New Horizons)
From Nookipedia, the Animal Crossing wiki
The starry-sky wall is a wallpaper item in Animal Crossing: New Horizons.
The starry-sky wall can be obtained from crafting, which requires

5× star fragment and

1× large star fragment. The recipe for this item can be obtained from Celeste or from message bottles found on the Star Fragment island via Kapp'n's boat tours.
This item appears in the homes of

Filbert,

Grizzly,

Ione,

Julian,

Octavian,

Prince,

Ruby, and

Simon as the default wallpaper.
In Happy Home Paradise, this item is available for use in designing after completing six vacation homes and the school facility.

Alfonso,

Benedict,

Cashmere,

Diana,

Egbert,

Henry,

Hornsby,

Ione,

Julian,

Kyle,

Mac,

Olaf,

Olivia,

Pancetti,

Phil,

Pietro,

Piper,

Rhonda,

Rolf,

Rory,

Ruby,

Sasha,

Savannah,

Sterling,

Timbra, and

Zoe feature this item in their order list when designing their vacation home.
Appearance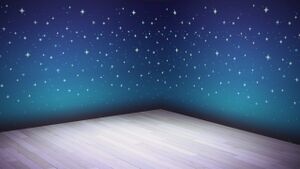 The starry-sky wall is a night sky scene featuring a multitude of stars in a shade of blue. The wall features a 3D illusion, in which the stars pop out if close enough.
When placed in a dark setting, the stars will illuminate.
Gallery
References