Cairns birdwing
From Nookipedia, the Animal Crossing wiki
Event
Unknown
Dates available
Unknown
Real-world info
Name: Ornithoptera paradisea
Family: Papilionidae
Other appearances
Names in other languages
ゴクラクトリバネアゲハ
N/A
Lépidoptère
mariposa de Cairns
farfalla di Cairns
N/A
오르니토프테라 호랑나비
天堂鳥翼鳳蝶
Lépidoptère
mariposa de Cairns
Grün-Vogelfalter
N/A
The Cairns Birdwing is a bug found in Animal Crossing: Pocket Camp. The birdwing is based on Ornithoptera paradisea, the paradise birdwing. Due to a localization error, it is referred to as the Cairns birdwing, which is actually a separate species, Ornithoptera euphorion.
Catch details
[
edit
]
In Pocket Camp

[

edit

]
Gallery
[
edit
]
Real-world information
[
edit
]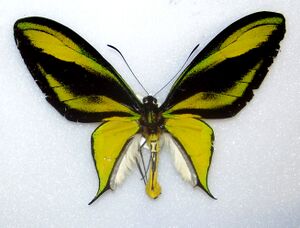 The birdwing is based on the paradise birdwing, the Ornithoptera paradisea and not the actual Cairns birdwing, the Ornithoptera euphorion as it does not have the right shape of wings. The paradise birdwing is sexually dimorphic, males and females differ in size, shape and color of the wings. The ones depicted in the game are males, who are colorful, whereas females are usually dark brown.
More information on this topic is available at Wikipedia.
Names in other languages
[
edit
]
ゴクラクトリバネアゲハ


Gokurakutoribaneageha
Paradise birdwing

---

Grün-Vogelfalter

Literal "Green Bird Moth"

---

mariposa de Cairns

Cairns butterfly

---

Lépidoptère

Lepidoptera

---

farfalla di Cairns

Cairns butterfly