Coconut crab
From Nookipedia, the Animal Crossing wiki
The subject of this page has no official English localization, so a translation of the original Japanese name is used instead.
| | | |
| --- | --- | --- |
| | Coconut crab |   |

Real-world info
Name: Birgus latro
Family: Coenobitidae - Hermit Crabs
Main appearances
Other appearances
The coconut crab (ヤシガニ, yashigani?) is a bug in Doubutsu no Mori e+. It can be found on fruitless palm trees from 7 PM to 8 AM from early summer to early fall. The player must shake the tree, and the bug will fall onto the ground where it will crawl around and can be caught.
Catch details
[
edit
]
In Doubutsu no Mori e+

[

edit

]
Donating to the museum
[
edit
]
Gallery
[
edit
]
Real-world information
[
edit
]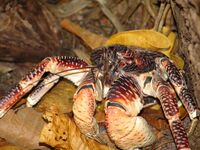 The coconut crab, also known as the robber crab or palm-thief, is actually a species of hermit crab. Unlike hermit crabs most people are familiar with, once young coconut crabs reach maturity they develop a hard exoskeleton that negates the need for a separate shell. Despite its name coconuts are not a primary source of their diet, which mostly consists of fruits, seeds and nuts. They do, however, often climb coconut palms in order to escape predators including other coconut crabs. Because it is the largest land-dwelling crab, it is extensively hunted by humans and is only prevalent in areas where humans are not.