Cyclommatus stag
From Nookipedia, the Animal Crossing wiki
| | | |
| --- | --- | --- |
| | Cyclommatus stag |   |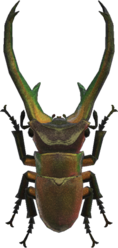 Real-world info
Name: Cyclommatus elaphus
Family: Lucanidae- Stag Beetles
Main appearances
Other appearances
Names in other languages
ホソアカクワガタ
细身赤锹形虫
細身赤鍬形蟲
엘라푸스가위사슴벌레
Lucane cyclommatus
Lucane cyclommatus
Esc. ciervo cyclommatus
Esc. ciervo cyclommatus
Coleottero cyclommatus
Жук-рогач
Cyclommatus
Vliegend hert
The cyclommatus stag (known as the cyclommatus prior to New Leaf) is a bug in the Animal Crossing series introduced in Animal Crossing: City Folk. It can be found on palm trees from 5 PM to 8 AM from mid to late summer.
Catch details
[
edit
]
In City Folk

[

edit

]
| | |
| --- | --- |
| Description | Their short life span makes these insects hard to raise. |
| Time of year | Jul – Aug |
| Time of day | 5 PM – 8 AM |
| Peak times | N/A |
| Location | On palm trees |
| Bug size | Unknown |
| Rarity | Very rare |
| Selling price |  8,000 Bells |
| Furniture size | |
In New Leaf

[

edit

]
Time of year
Jul – Aug
All year (Tortimer Island)
Time of day
5 PM – 8 AM
Peak times
N/A
Location
On palm trees (can be found on Tortimer Island)
Size
Unknown
Rarity
Very rare
Selling price
 8,000 Bells
Furniture size
In Pocket Camp

[

edit

]
In New Horizons

[

edit

]
Time of year
North: Jul – Aug
South: Jan – Feb
Time of day
5 PM – 8 AM
Location
On palm trees
Weather
Any weather
Spawn requirement
Catch 100 total bugs
Selling prices
 Nook's Cranny:  8,000 Bells
 Flick:  12,000 Bells
Furniture size
Donating to the museum
[
edit
]
In City Folk

[

edit

]
Upon donation to the museum, Blathers the curator will say the following:
"The calling card of the cyclommatus is its pair of mandibles, which are usually as long as its body. Another interesting fact is that the bug hates heat and will usually perish in a non-air-conditioned room. I can sympathize, eh wot? Leaving the sanctum of the museum for the summer heat is simply wretched."
After donation, the cyclommatus can be found on the second tier of the insect section, in the large enclosure on the middle palm tree. This enclosure also contains the rafflesia, tarantula, scorpion, and elephant neetle, to name a few.
In New Leaf

[

edit

]
After the donation, an information board will display a description of the cyclommatus stag.
"Cyclommatus stags are identified by their long pairs of mandibles, which can be as long as their bodies. Their large mandibles are actually already formed when they're in the pupal stage of life. Although these beetles are mostly easygoing, those living in mountains really can't stand the heat."
In New Horizons

[

edit

]
"The cyclommatus stag is known for its giant jaws, which can be even larger than its body. It's round eyes and silver color make it a beloved beetle. Though how one could love a beetle is beyond me. Imagine being pinched by those long jaws, and the pain it would cause! Ouch and ewww!"
Gallery
[
edit
]
Real-world information
[
edit
]
The first impression of the cyclommatus would be the large mandibles which measure up as long as the body, taking up half its full length. It uses these mandibles to fight off other beetles for a mate. The male cyclommatus is a lot larger than the female—the male being around 105mm and the female being 30mm.
Names in other languages
[
edit
]
ホソアカクワガタ


hoso-aka-kuwagata
Slender red stag beetle

---

엘라푸스가위사슴벌레


ellapuseukawisaseumbeolle
From specific name elaphus and the Korean name for Cyclommatus (lit. "scissor stag beetle")

---

细身赤锹形虫


xìshēn chì qiāoxíngchóng
Slender red stag beetle

---

細身赤鍬形蟲


Unknown

---

Жук-рогач


Zhuk-rogach
Stag beetle

---

Vliegend hert

"Flying stag"

---

Cyclommatus

From genus name

---

Esc. ciervo cyclommatus

Cyclommatus stag beetle

---

Lucane cyclommatus

Cyclommatus stag beetle

---

Coleottero cyclommatus

Cyclommatus beetle