Blue weevil beetle
From Nookipedia, the Animal Crossing wiki
| | | |
| --- | --- | --- |
| | Blue weevil beetle |   |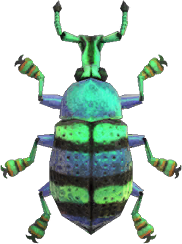 Real-world info
Name: Eupholus magnificus
Family: Curculionidae
Main appearances
Other appearances
Names in other languages
ホウセキゾウムシ
宝石象鼻虫
Charançon bleu
Gorgojo azul
Coleottero Schoenherr
Синий долгоносик
유포루스바구미
寶石象鼻蟲
Charançon bleu
Gorgojo azul
Blaurüsselkäfer
Blauwe snuitkever
The blue weevil beetle is a bug in Animal Crossing: New Horizons that can be found on palm trees. It can be caught all day in July and August in the northern hemisphere, and in January and February in the southern hemisphere. It sells for 800 Bells. The player's catch quote for it is a pun on the phrase "lesser of the two evils."
Catch details
[
edit
]
In New Horizons

[

edit

]
Time of year
North: Jul – Aug
South: Jan – Feb
Time of day
All day
Location
On palm trees
Weather
Any weather
Spawn requirement
Appears from the start of the game
Selling prices
 Nook's Cranny:  800 Bells
 Flick:  1,200 Bells
Furniture size
Donating to the museum
[
edit
]
In New Horizons

[

edit

]
"Yes, yes. The blue weevil beetle does come in beautiful shades of blue. The colors are so bright, some say it looks like a living jewel. But I say it looks like a weevil...and weevil rhymes with EVIL. Draw your own conclusions from there. Hoot! I certainly have!"
Gallery
[
edit
]
Real-world information
[
edit
]
The genus Eupholus is native to the island of New Guinea and contains a plethora of species, most of which are blue or green.
More information on this topic is available at Wikipedia.
Names in other languages
[
edit
]
ホウセキゾウムシ


hōseki zōmushi
Jewel weevil

---

유포루스바구미


yuporuseubagumi
Eupholus weevil

---

宝石象鼻虫


bǎoshí xiàngbíchóng
Jewel weevil

---

Синий долгоносик


Unknown
Siniy dolgonosnik

---

Blauwe snuitkever

Blue weevil

---

Blaurüsselkäfer

Blue weevil

---

Gorgojo azul

Blue weevil

---

Charançon bleu

Blue weevil

---

Coleottero Schoenherr

From Eupholus schoenherri, the first described Eupholus species