Diary
Jump to navigation
Jump to search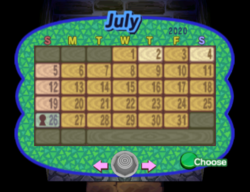 Diaries are items in Animal Crossing and Doubutsu no Mori e+. When interacted with, a calendar appears that lists events and documents the days a player loaded their saved game. Diary entries can be written for each month of the year,[nb 1] and restrictions can be set to allow or restrict other players from viewing them. Diaries can only be interacted with when placed on a surface, such as a table, and they cannot be interacted with in the Japanese version of Animal Crossing.
A total of sixteen diaries are in the game, though they all function identically. They can be purchased from Nookway and Nookington's or received from Tortimer on New Year's Day.[nb 2] Diaries appear at the end of the furniture section of the catalog and can all be reordered. Additionally, each player has a College Rule in their house by default.
Item list
[
edit
]
Animal Crossing

[

edit

]
Diaries in Animal Crossing
Gallery
[
edit
]
↑

A diary entry can be written by selecting any day, but once saved it will appear on every day's page in that month. Additionally, entries carry over between years.

↑ Only in international versions of Animal Crossing and in Doubutsu no Mori e+. In Doubutsu no Mori+, Tortimer instead gives the player the New Year's Food on New Year's Day.