Stone lion-dog (New Horizons)
From Nookipedia, the Animal Crossing wiki
The stone lion-dog is a customizable houseware furniture item in Animal Crossing: New Horizons. As an outdoor item, it will provide an additional 0.5 development points towards the island rating.
The stone lion-dog can be obtained from crafting, which requires

24× stone. The recipe for this item can be obtained from smug villagers, either when they are crafting in their house, or when the player receives their message bottle from the beach. The item's variation can be customized either by using 3 customization kits or by Cyrus at Harv's Island for

 3,800 Bells.
This item appears as a furniture item in the homes of

Rory. As a result, this item has a chance to be purchasable by the player if they were invited by any of the preceding villagers.
In Happy Home Paradise, this item is unlocked for use in designing when doing a vacation home request for

Apollo,

Avery,

Clay,

Diva,

Drago,

Ken,

Louie,

Marcel,

Shino, and

Sly.
Variations
The stone lion-dog has 3 variations.
Version differences
Prior to version 2.0, the stone lion-dog variant body part was named "Color".
Gallery
Real-world information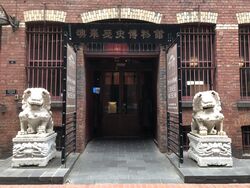 Stone lion statues, or commonly referred to as Chinese guardian lions are a traditional ornament found in China. The statues were originally from Chinese Buddhism and were popularized and spread through other Asian regions, including but not limited to Japan, Korea, and Southeast Asia. These statues would be installed in order to protect a building from harmful spirits or people.
In traditional fêng shui standards, two stone lions, one male and the other female, should be installed. The male should be placed on the right with a ball on his right paw, while the female should be placed on the left, with her cub under her left paw. The cub on the left female statue often symbolizes nurture, while the ball on the right male statue symbolizes supremacy.
However, the stone lion-dog in Animal Crossing: New Horizons does not have any sort of object lying on either their paws. Because of this, it is assumed that when two stone lion-dog statues are placed that both lions are homosexual.
More information on this topic is available at Wikipedia.
In other games
References