Distributed item
From Nookipedia, the Animal Crossing wiki


Distributed content, also known as downloadable content (DLC), in the Animal Crossing series refers to items and other content distributed by Nintendo, usually over the internet. Distributed items have appeared in some form in every Animal Crossing game since Animal Crossing.
Appearances
[
edit
]
In Animal Crossing

[

edit

]


In Animal Crossing, items were distributed through the use of secret codes. Codes for items in the Mario Theme as well as the Mario Trophy and Luigi Trophy were published in issues of Nintendo Power from 2003 to 2004 and on the game's official website. Codes were featured in a section titled "Tom Nook's Delivery Service".
In Wild World

[

edit

]
Animal Crossing: Wild World marks the first time items were directly distributed to the game, via both DS Download Stations and the Nintendo Wi-Fi Connection. Unique items, including the Mario Theme, Pikmin, and Blue Falcon, were distributed via DS Download Stations, and letters containing items were sent over the Internet via the Nintendo Wi-Fi Connection. Content was distributed to Wild World from its release in 2005 until 2009.
In City Folk

[

edit

]
In Animal Crossing: City Folk, items were distributed using the WiiConnect24 feature of the Wii. This feature must have been enabled on both the Wii and the game in order to receive the items. Unlike other games, the distributed items do not exist in the game's data, with the item data itself being added to the player's save file when the item is received.
Distributed items were scheduled to be released during a 7-day period, where the item is received within the allotted time. Pete, the mail carrier, gives the player an item attached as a present on a letter. He would mention that the letters are from Nintendo, but some may be signed by special characters or characters from other Nintendo franchises. Additionally, Wendell would occasionally give the player one of his designs to commemorate a special occasion.
Distribution of City Folk items ended on June 28, 2013 along with the discontinuation of WiiConnect24.
In New Leaf

[

edit

]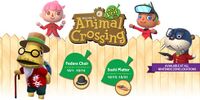 In Animal Crossing: New Leaf, items could be received from Nintendo Zone locations or over Wi-Fi. The items are obtainable in-game in the post office, or very rarely, in the mail. At the Post Office, the player can talk to Pelly or Phyllis to ask if a gift is available, and they will then be asked whether to check via Wi-Fi or Nintendo Zones. Some DLC items can be re-ordered from the catalog, while other items cannot.
DLC over Wi-Fi was discontinued after June 20, 2015, and Nintendo Zone downloadable content was discontinued as well after the discontinuation of the Nintendo Zone service.
In Happy Home Designer

[

edit

]
In Animal Crossing: Happy Home Designer, five villagers were distributed via Nintendo Zone and SpotPass. The player could obtain a villager as a special client during a distribution period by interacting with the Nintendo 3DS in the upstairs of Nook's Homes.
The five villagers are:
Nintendo Zone and SpotPass have been discontinued, so it is no longer possible to obtain these five villagers or their associated unlock items.
In New Horizons

[

edit

]
In Animal Crossing: New Horizons, 11 items were distributed in letters from Nintendo after downloading each major update from 1.1.0 to 1.9.0. All of these items can be obtained elsewhere.
13 items must be unlocked through the Nintendo eShop before they can be purchased in-game. The Nook Inc. silk rug and Nintendo Switch Lite are available to claim exclusively by Nintendo Switch Online members. Additionally, if the player links both Animal Crossing: Pocket Camp and New Horizons to their Nintendo Account, a Nintendo eShop code is given that unlocks 11 Pocket Camp-themed items.
Nooklink
[
edit
]
There are 12 items that can only be obtained through the NookLink feature in the Nintendo Switch Online mobile app. Once purchased in the app with Nook Points, they are mailed to the player in New Horizons.

This page could be improved with the addition of images.

This page could be improved with the addition of images.