Man-faced stink bug
From Nookipedia, the Animal Crossing wiki
| | | |
| --- | --- | --- |
| | Man-Faced Stink Bug |   |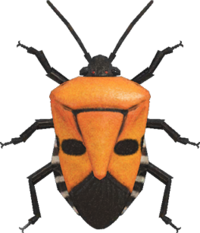 Real-world info
Name: Catacanthus incarnatus
Family: Pentatomidae
Main appearances
Other appearances
Names in other languages
 ジンメンカメムシ
 人面椿象
 人面椿象
 인면노린재
 Catacanthus
 Catacanthus
 Chinche con rostro humano
 Chinche con rostro humano
 Catacanthus
 Щитник с лицом
 Gesichtswanze
 Gezichtschildwants
The Man-Faced Stink Bug is a bug in Animal Crossing: New Horizons. It can be found on flowers between March and October in the northern hemisphere.
Catch details[edit]
In New Horizons[edit]
Time of year
North: Mar – Oct
South: Sep – Apr
Time of day
7 PM – 8 AM
Location
On flowers
Weather
Any except rain
Spawn requirement
Catch 20 total bugs
Selling prices
 Nook's Cranny:  1,000 Bells
 Flick:  1,500 Bells
Furniture size
Donating to the museum[edit]
In New Horizons[edit]
"Never mind this stink bug's smell. What you have here is a bug...with a FACE...on its BACK!! Wot-wot! Simply put, the man-faced stink bug have markings on its shell that resemble a human face. Once you notice this face, you cannot UN-notice it. Indeeed, this face might haunt you forever. At least the face will distract you from the stink."
Once donated to the museum, the Man-Faced Stink Bug can be found on the tropical flower bed with palm trees, near the Tiger Beetle and Honeybee.
Gallery[edit]
Real-world information[edit]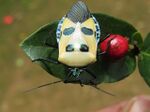 Catacanthus ("having downward-pointing thorns") is a genus of insects within the family Pentatomidae. The insects belonging to this genus are found in Madagascar, India, Sri Lanka, Burma, Thailand, China, Indonesia, Malaysia, Philippines, Papua New Guinea, New Caledonia, Japan and South Korea.
More information on this topic is available at Wikipedia.
Names in other languages[edit]
ジンメンカメムシ
jinmen kamemushi
Man-faced Stink Bug

---

인면노린재
inmyeonnorinjae
Man-faced Stink Bug

---

人面椿象
rénmiàn chūnxiàng
Man-faced Stink Bug

---

Щитник с лицом
Shchitnik s litsom
Stinkbug with a face

---

Gezichtschildwants
Faced shield bug

---

Gesichtswanze
Faced bug

---

Chinche con rostro humano
Stinkbug with human face

---

Catacanthus
Scientific name

---

Catacanthus
Scientific name