Common bluebottle
From Nookipedia, the Animal Crossing wiki
| | | |
| --- | --- | --- |
| | Common bluebottle |   |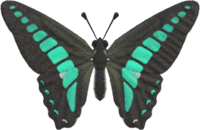 Real-world info
Name: Graphium sarpedon
Family: Papilionidae - Swallowtail Butterfly
Main appearances
Other appearances
Names in other languages
アオスジアゲハ
青带凤蝶
青帶鳳蝶
청띠제비나비
Graphium sarpedon
Graphium sarpedon
Mariposa triángulo azul
Mariposa triángulo azul
Graphium sarpedon
Графиум сарпедон
Kolibrifalter
Blauwe driehoek
The common bluebottle[nb 1] is a bug in the Animal Crossing series. It first appeared in Animal Crossing: New Horizons and was later added to Animal Crossing: Pocket Camp. Unlike other butterflies, it can sometimes be seen resting on the ground, though it will resume flying after a short time or if the player is nearby.
In the games that the common bluebottle appears in, it is a common bug that the player can encounter, and can be found flying. In Animal Crossing: New Horizons, it can be caught from spring to summer.
Catch details
[
edit
]
In New Horizons

[

edit

]
Time of year
North: Apr – Aug
South: Oct – Feb
Time of day
4 AM – 7 PM
Location
Flying
Weather
Any except rain
Spawn requirement
Appears from the start of the game
Selling prices
 Nook's Cranny:  300 Bells
 Flick:  450 Bells
Furniture size
Donating to the museum
[
edit
]
In New Horizons

[

edit

]
"The common bluebottle is a type of swallowtail butterfly with a bright blue line running down its wings. They fly quite nimbly, it seems, and are thus quite difficult to catch. But seeing how they've been known to slurp nutrients from MUD puddles... I simply CAN'T imagine wanting to catch one myself. What awful breath!"
Once donated, the common bluebottle can be found flying in the butterfly room in the bug exhibit of the museum.
Gallery
[
edit
]
Real-world information
[
edit
]
Graphium sarpedon, also known as the "common bluebottle" or "blue triangle", is a butterfly native to southeast Asia and eastern Australia.
More information on this topic is available at Wikipedia.
"Bluebottles" are also a type of blowfly, but the Common Bluebottle is a butterfly.
Names in other languages
[
edit
]
アオスジアゲハ


aosuji-ageha
Common bluebottle (lit. "blue-striped swallowtail")

---

청띠제비나비


cheongttijebinabi
Common bluebottle

---

青带凤蝶


qīngdài fèngdié
Common bluebottle (lit. "blue-striped swallowtail")

---

青帶鳳蝶


Unknown

---

Графиум сарпедон


Grafium sarpedon
From scientific name

---

Blauwe driehoek

Blue triangle

---

Kolibrifalter

Common bluebottle

---

Mariposa triángulo azul

Blue triangle butterfly

---

Graphium sarpedon

From scientific name

---

Graphium sarpedon

From scientific name