Giraffe stag
From Nookipedia, the Animal Crossing wiki
| | | |
| --- | --- | --- |
| | Giraffe stag |   |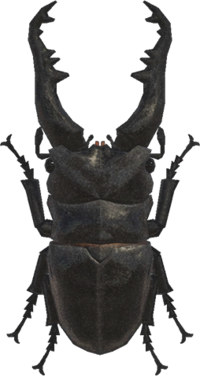 Real-world info
Name: Prosopocoilus giraffa
Family: Lucanidae
Main appearances
Other appearances
Names in other languages
ギラファノコギリクワガタ
长颈鹿锯锹形虫
長頸鹿鋸鍬形蟲
기라파톱사슴벌레
Lucane girafe
Lucane girafe
Escarabajo ciervo jirafa
Escarabajo ciervo jirafa
Coleottero giraffa
Рогач-жираф
Giraffenhirschkäfer
Girafhertkever
The giraffe stag is a bug in Animal Crossing: New Horizons that can be found on palm trees from 5 PM to 8 AM during the summer months. It is tied with the golden stag and the horned hercules as the most valuable bug in the Animal Crossing series, selling for 12,000 Bells.
Catch details
[
edit
]
In Pocket Camp

[

edit

]
In New Horizons

[

edit

]
Time of year
North: Jul – Aug
South: Jan – Feb
Time of day
5 PM – 8 AM
Location
On palm trees
Weather
Any weather
Spawn requirement
Catch 100 total bugs
Selling prices
 Nook's Cranny:  12,000 Bells
 Flick:  18,000 Bells
Furniture size
Donating to the museum
[
edit
]
When donating the giraffe stag to the museum, Blathers will say the following:
In New Horizons

[

edit

]
"The giraffe stag beetle is a bug of preposterous proportions. Not only is its body rather large, it has two long, jagged jaws that can put it over five inches in size! The giraffe stag beetle's long jaws have been compared to the long neck of the giraffe...hence the name. But I say such comparisons are a stretch. Giraffe necks are NOT lined with spikes! If I were a giraffe, I would protest."
Commissioning a model
[
edit
]
If the player brings three giraffe stags to Flick to commission a model, he will say the following:
"R-really? You want a sculpture of a giraffe stag? Reaping shears of the netherworld? Those twin razory scythes that slice into foes! Those crimson eyes that bore into your very soul! I promise this will be my intense-est masterpiece, and I shall title it The Grand Giraffe Stag Beetle!"
Gallery
[
edit
]
Names in other languages
[
edit
]
ギラファノコギリクワガタ


girafa-nokogiri-kuwagata
Giraffe saw stag beetle

---

기라파톱사슴벌레


girapatopsaseumbeolle
Giraffe saw stag beetle

---

长劲鹿锯锹形虫


chángjǐnlù jù qiāoxíngchóng
Giraffe saw stag beetle

---

長頸鹿鋸鍬形蟲


Unknown

---

Рогач-жираф


Rogach-zhiraf
Giraffe stag beetle

---

Girafhertkever

Giraffe stag beetle

---

Giraffenhirschkäfer

Giraffe stag beetle

---

Escarabajo ciervo jirafa

Giraffe stag beetle

---

Lucane girafe

Giraffe stag beetle

---

Coleottero giraffa

Giraffe beetle