Great purple emperor
From Nookipedia, the Animal Crossing wiki
| | | |
| --- | --- | --- |
| | Great purple emperor |   |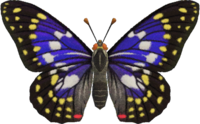 Real-world info
Name: Sasakia charonda
Family: Nymphalidae
Main appearances
Other appearances
Names in other languages
オオムラサキ
大紫蛱蝶
大紫蛺蝶
왕오색나비
Sasakia charonda
Grand empereur pourpre
Marip. emperador japonés
Marip. emperador japonés
Farfalla imperatore viola
Сасакия харонда
Japan-Schillerfalter
Paarse keizervlinder
The great purple emperor (known as the purple butterfly prior to New Horizons)[nb 1] is a bug in the Animal Crossing series. It first appeared in Doubutsu no Mori. After Doubutsu no Mori e+, the great purple emperor would remain absent from the series until Animal Crossing: Pocket Camp, when it was available for a limited time as part of the All Aflutter Butterfly Goals event. It would later make an appearance in Animal Crossing: New Horizons.
In the games that the great purple emperor appears in, it is a rare bug that the player can encounter, and can be found flying. In Animal Crossing: New Horizons, it can be caught from late spring to summer.
Catch details
[
edit
]
In Animal Crossing

[

edit

]
In Pocket Camp

[

edit

]
In New Horizons

[

edit

]
Time of year
North: May – Aug
South: Nov – Feb
Time of day
4 AM – 7 PM
Location
Flying near flowers
Weather
Any except rain
Spawn requirement
Catch 50 total bugs
Selling prices
 Nook's Cranny:  3,000 Bells
 Flick:  4,500 Bells
Furniture size
Donating to the museum
[
edit
]
As with all bugs in the Animal Crossing series, the great purple emperor can be donated to the museum by talking to Blathers, who will also tell the player some information about the donation.
In Animal Crossing

[

edit

]
"There's an old saying among some of my contemporaries: "Butterflies are beautiful, yet moths are monstrous." Well, if you were to ask me, I'd say they were all the same! By which I mean disgusting! Truly hoo-rrific, wot wot!"
In New Horizons

[

edit

]
"The great purple emperor lives high in the treetops and is renowned for its pretty purple-hued wings. Its impressive bird-like wingspan and elusive nature have made it a favorite among butterfly aficionados. But truth be told, the so-called great purple emperor has some not-so-great personal peculiarities. For one...it has two horrid HORNS upon its head when it is in its caterpillar form. For two...it has been known to dine on feces and animal carcasses! Hoo! That's why I call it the Emperor of EWWW!"
When donated, the great purple emperor can be found flying between the trees in the main room of the bug exhibit, being one of the few butterflies not found in the butterfly room.
Gallery
[
edit
]
Real-world information
[
edit
]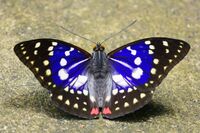 Sasakia charonda, also known as the Japanese emperor or giant purple emperor, is a species of butterfly native to eastern Asia (including all of Japan, the Korean peninsula, mainland China, northern Taiwan, and northern Vietnam). It is the national butterfly of Japan.
More information on this topic is available at Wikipedia.
Names in other languages
[
edit
]
オオムラサキ


Ōmurasaki
Great purple

---

왕오색나비


Wang-osaengnabi
Emperor five-colored butterfly

---

大紫蛱蝶


Dàzǐjiádié
Great purple butterfly

---

大紫蛺蝶


Unknown

---

Сасакия харонда


Sasakiya kharonda
Scientific name

---

Paarse keizervlinder

Purple emperor butterfly

---

Japan-Schillerfalter

Japanese emperor butterfly

---

Marip. emperador japonés

Japanese emperor butterfly

---

Sasakia charonda

Scientific name

---

Grand empereur pourpre

Great purple emperor

---

Farfalla imperatore viola

Purple emperor butterfly