Donkey Kong 3 (Animal Crossing)
From Nookipedia, the Animal Crossing wiki
NES game



Buy price
Sell price
Not for sale
 750 Bells
Size

 1 × 1

Obtain via
HRA points
1983
HRA penalty if facing wall
Unknown
Feng shui

Red

Appearances

Names in other languages

 

ドンキーコング3

 

N/A

 

Donkey Kong 3

 

DK 3

 

N/A

 

Donkey Kong 3

 

Donkey Kong 3

 

N/A
Donkey Kong 3 is a furniture item in Doubutsu no Mori+, Animal Crossing, and Doubutsu no Mori e+. It can be placed on the surface of tables and other similar furniture that have surfaces for items. The player can interact with this item to play Donkey Kong 3.
In Animal Crossing, Donkey Kong 3 can be obtained from Tom Nook after providing a secret code that could be generated on the game's official website in November 2002.[1] For Doubutsu no Mori e+, the code was given to those who joined Panasonic hi-ho's "Doubutsu no Mori Photo Club" (どうぶつの森 写真くらぶ).[2] It can also appear in the catalogue if the player's data is transferred from a Doubutsu no Mori+ save file where they owned it (it was a common NES game), but it is not for sale.
For the purpose of fêng shui, its color is red. This item is lucky, meaning it gives a 777-point Happy Room Academy bonus when placed in the player's house.
No villagers have this item in their home.
Version differences

In Doubutsu no Mori+, Donkey Kong 3 is modeled after a Famicom rather than a Nintendo Entertainment System. Doubutsu no Mori e+ retains the design from Animal Crossing.
Game overview
For more information about this game, see its corresponding article on Super Mario Wiki.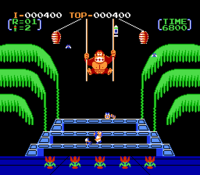 Donkey Kong 3 is an arcade game in the Donkey Kong series that was later ported to the Nintendo Entertainment System.
In a departure from the previous two Donkey Kong arcade games, which are platformers, Donkey Kong 3 is a shooter. The player controls a bug exterminator named Stanley, who must drive Donkey Kong out of his greenhouse by spraying him with insect repellant to push him up until he reaches the top of the screen. Additionally, the player must protect Stanley's plants from various insects that fly toward them. Once Donkey Kong is pushed to the top of the screen, the game moves onto the next level; on the third level, Donkey Kong is pushed into a beehive and is defeated.
See also
Notes
References