Excitebike (Animal Crossing)
From Nookipedia, the Animal Crossing wiki
NES game



Buy price
Sell price
 3,000 Bells
 750 Bells
Size

 1 × 1

Obtain via
HRA points
1029
HRA penalty if facing wall
Unknown
Feng shui
None
Appearances

Names in other languages

 

エキサイトバイク

 

N/A

 

ExciteBike

 

Excitebike

 

N/A

 

Excitebike

 

Excitebike

 

N/A
Excitebike is a furniture item in Animal Crossing and Doubutsu no Mori e+. It can be placed on the surface of tables and other similar furniture that have surfaces for items. The player can interact with this item to play Excitebike.
Excitebike can be obtained from the raffle, Wisp, a treasure hunt, or trees when the player has good luck. It does not have any color for the purpose of fêng shui. This item is lucky, meaning it gives a 777-point Happy Room Academy bonus when placed in the player's house.
No villagers have this item in their home.
Game overview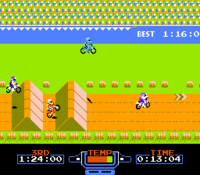 Excitebike is a racing game for the Nintendo Entertainment System released in 1984.
The player takes on the role of a motocross racer with a red motorcycle, whose purpose is to win the Excitebike championship. Being able to choose between racing against other motocross riders or racing alone, the player has to guide the red motocross racer under clock along the track to jump ramps, and dodge obstacles and/or the other riders. The player must also try to perform good enough to qualify for the championship / the next track, and be careful with the speed they move at, to keep the temperature of their motorcycle at a stable level so as to prevent having to stop for it to cool down. Stepping over arrows along the track resets the temperature level.
At the start of the game, tracks from 1 to 5 can be chosen to be played, but the game also features a Design mode, which lets players design their own tracks to their liking.
Notes
References