Miyama stag
From Nookipedia, the Animal Crossing wiki
| | | |
| --- | --- | --- |
| | Miyama Stag |   |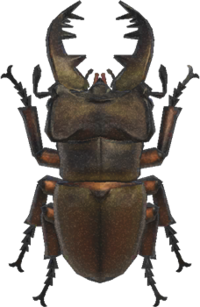 Real-world info
Name: Lucanus maculifemoratus
Family: Lucanidae - Stag Beetles
Main appearances
Other appearances
Names in other languages
ミヤマクワガタ
深山锹形虫
深山鍬形蟲
사슴벌레
Lucane miyama
Lucane miyama
Escarabajo ciervo Miyama
Escarabajo ciervo Miyama
Coleottero lucanide
Горный жук-олень
Hirschkäfer
Miyama-hertkever
The Miyama Stag[nb 1] (known as the Mountain Beetle prior to City Folk) is an insect found in Doubutsu no Mori, Doubutsu no Mori+, Animal Crossing, Doubutsu no Mori e+, Animal Crossing: City Folk, Animal Crossing: New Leaf, and Animal Crossing: New Horizons. It is a beetle that appears between the months of July and August in the northern hemisphere, and January and February in the southern hemisphere. The Miyama Stag sells for the price of 1,000 Bells (2,000 Bells prior to City Folk).
Catch details
[
edit
]
In Animal Crossing

[

edit

]
In City Folk

[

edit

]
| | |
| --- | --- |
| Description | Known for the distinct shape of their heads, they look strong but are delicate. |
| Time of year | Jul – Aug |
| Time of day | All day |
| Peak times | Aug |
| Location | On trees (any kind) |
| Bug size | 60 mm |
| Rarity | Very uncommon |
| Selling price |  1,000 Bells |
| Furniture size | |
In New Leaf

[

edit

]
Time of year
Jul – Aug
All year (Tortimer Island)
Time of day
All day
Peak times
Aug:
7 PM – 8 AM
Location
On trees (any kind) (can be found on Tortimer Island)
Size
60 mm
Rarity
Very uncommon
Selling price
 1,000 Bells
Furniture size
In Pocket Camp

[

edit

]
In New Horizons

[

edit

]
Time of year
North: Jul – Aug
South: Jan – Feb
Time of day
All day
Location
On trees (any kind)
Weather
Any weather
Spawn requirement
Appears from the start of the game
Selling prices
 Nook's Cranny:  1,000 Bells
 Flick:  1,500 Bells
Furniture size
Donating to the museum
[
edit
]
In Animal Crossing

[

edit

]
Like all fish and bugs in Animal Crossing, the Mountain Beetle can be donated to the museum by talking to Blathers, the curator. He will tell the player some information about it when the player donates it.
"They're called beetles, wot? The lugs of the insect world. Insects with armor plating their backs, you know. Their armor, it...opens up, revealing wings. Featherless wings. Which they use to fly! It's really quite unnatural. Then, there's that thin, membrane-like covering where their heads connect to their bodies. Most foul! Hooo... But I digress..."
In City Folk

[

edit

]
Blathers will say this upon donation to the museum:
"With its thick, bumpy, armorlike exoskeleton, the Miyama stag beetle is quite popular with children. However, the truth is, this beetle is fragile enough to perish from injuries we'd usually consider minor. Indeed, it appears this beetle suffers from a case of rather too much bark and too little bite."
It can be found on the back terrace of the insect exhibit, on the third tree from the right.
In New Leaf

[

edit

]
When donated in New Leaf, the Miyama stag can be found in the right-hand back room of the bug exhibit, on the southernmost tree on the right side of the room. The exhibit has this to say about the Miyama stag:
"Miyama stags look strong, with their thick, bumpy exoskeletons and yellow hair covering their bodies. They're active during the day but really don't prefer the heat during the summer. Contrary to their appearance, they are rather delicate insects, so be sure to handle with care."
In New Horizons

[

edit

]
"The miyama stag has protrusions on its head that resemble ears... And yet, the ugly lumps are not ears! It is, however, called a "stag" beetle because of the large, deer-like horns upon its head. And the word "miyama" in its name means "deep mountain" in Japanese. Feel free to call it what you like.I will simply call it DISGUSTING. "Disgusting stag beetle" does have a ring.""
Gallery
[
edit
]
Real-world information
[
edit
]
Lucanus maculifemoratus, also known as the Miyama stag beetle or Miyama kuwagata is a beetle found in Japan, thus the Japanese name. It is popular among children, because it is seemingly harmless and does not mind being touched. As stated in the "Bugs and Fish" window in City Folk (also known as Encyclopedia), it has a distinctive shape of head, and although it looks strong, it is in fact quite delicate, which might be why it is popular with children. It is found in mountainous areas in northern Japan, as well as natural forests.
Names in other languages
[
edit
]
ミヤマクワガタ


miyama-kuwagata
Miyama ("deep mountain") stag beetle

---

사슴벌레


saseumbeolle
Stag beetle

---

深山锹形虫


shēnshān qiāoxíngchóng
Deep mountain stag beetle

---

深山鍬形蟲


Unknown

---

Горный жук-олень


Gornyy zhuk-olen'
Mountain stag beetle

---

Miyama-hertkever

Miyama stag beetle

---

Hirschkäfer

Stag beetle

---

Escarabajo ciervo Miyama

Miyama stag beetle

---

Lucane miyama

Miyama stag

---

Coleottero lucanide

Stag beetle (lit. "lucanid beetle")