Saw Stag
Jump to navigation
Jump to search
"Yes! I caught a saw stag beetle! Look at those mandibles!" —Animal Crossing
"Right on! I caught a saw stag beetle! Look at its chin... what an amazing specimen!" —Wild World
"Yahoo! I caught a saw stag beetle! Look at those mandibles!" —City Folk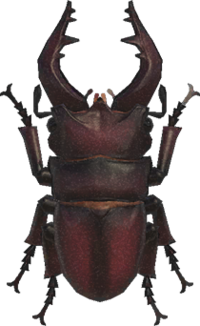 Real-world info
Name: Prosopocoilus inclinatus
Family: Lucanidae - Stag Beetles
Main appearances
Other appearances
Name in other languages
 ノコギリクワガタ

 锯锹形虫

 Lucane inclinatus

 Escarabajo ciervo sierra

 Coleottero cervo

 Жук-олень
 톱사슴벌레

 鋸鍬形蟲

 Lucane inclinatus

 Escarabajo ciervo sierra

 Sägezahn-Hirschkäfer

 Zaaghertkever
The Saw Stag (ノコギリクワガタ, Nokogiri Kuwagata), known as the Saw Stag Beetle prior to Animal Crossing: New Leaf is a beetle that appears in all Animal Crossing series games. It can be sold for 2,000 Bells.
Catch details
[
edit
]
Wild World

[

edit

]
   ''Though nocturnal, they also appear during the day."


Size- 65 mm
Season- Summer
Time- Night
City Folk

[

edit

]
    ''Though typically nocturnal, these can be found during the day."


Size- About 65 mm
Season- Summer
Time- Night to morning
In New Leaf

[

edit

]
Time of Year
Jul - Aug
All year (Tortimer Island)
Time of Day
All day
Peak Times
7 PM - 8 AM
Location
On trees (any kind)
Tortimer Island
Size
54 mm
Rarity
Rare
Selling Prices
 2000 Bells
Tank Size
In Pocket Camp

[

edit

]
N/AUnknownSunburst Island44.1 mm - 63.6 mm★★9.3677%1,200
In New Horizons

[

edit

]
Time of Year
North: Jul – Aug
South: Jan – Feb
Time of Day
All day
Location
On trees (any kind)
Rarity
Total Catch
0
Selling Prices
 Nook's Cranny:  2000 Bells
 Flick:  3000 Bells
Tank Size
Donating to the museum
[
edit
]
In Animal Crossing

[

edit

]
"They're called beetles, wot? The lugs of the insect world. Insects with armor plating on their backs, you know. Their armor, it...opens up, revealing wings, which they use to fly. It's really quite unnatural. Then, there's that thin membrane-like covering where their heads connect to their bodies. Most foul!"
In City Folk

[

edit

]
Blathers will comment on the donation to the museum as follows:
"The saw stag beetle's most distinguishing feature is its large, curved jaw, wot? The larger the specimen, the more teeth in its jaw. Among collectors, the teeth settle a specimen's worth. I don't suppose bugs have dentists... Hoo, I'm quite sure that would be the worst job of all time."
After donation, the Saw Stag Beetle can be found on the top tier of the insect section, on the fourth tree from the lantern on the left side.

In New Horizons

[

edit

]
When donating to the museum, Blathers will say the following:
"The saw stag got its name from the shape of its pincers. That is, its pincers look like jagged saws! And I tell you, the bigger the beetle, the more saw-like teeth its giant jaws have. I saw the saw stag seems more at home in a horror film than in nature. I have terrified myself just talking about it."
Real-world information
[
edit
]
The Prosopocoilus inclinatus (Saw Stag Beetle) is one of the most common Japanese stag beetles. They are kept as pets in Japan, much like many other beetles. The mandibles on its head change shape as the beetle grows - the larger it becomes, the greater the angle and size the mandibles become.
Names in other languages
[
edit
]
ノコギリクワガタ


nokogiri-kuwagata

Saw stag beetle

---

톱사슴벌레


topsaseumbolle

Saw stag beetle

---




锯锹形虫

 

/

 

鋸鍬形蟲


jù qiāoxíngchóng

Saw stag beetle

---

Жук-олень


Zhuk-olen'

Stag beetle

---

Zaaghertkever

Saw stag beetle

---

Sägezahn-Hirschkäfer

Saw-toothed stag beetle

---

Escarabajo ciervo sierra

Saw stag beetle

---

Lucane inclinatus

Inclinatus stag beetle - from specific name

---

Coleottero cervo

Stag beetle
ノコギリクワガタnokogiri-kuwagataSaw stag beetle톱사슴벌레topsaseumbolleSaw stag beetleUnknownUnknownUnknown锯锹形虫鋸鍬形蟲jù qiāoxíngchóngSaw stag beetleUnknownUnknownUnknownЖук-оленьZhuk-olen'Stag beetleZaaghertkeverSaw stag beetleSägezahn-HirschkäferSaw-toothed stag beetleEscarabajo ciervo sierraSaw stag beetleUnknownUnknownLucane inclinatusInclinatus stag beetle - from specific nameUnknownUnknownColeottero cervoStag beetleUnknownUnknown