Queen Alexandra's Birdwing
Jump to navigation
Jump to search
"I caught a birdwing butterfly! A green light in midair!" —Wild World
"I caught a birdwing butterfly! Tweet tweet, flap flap?" —City Folk
"I caught a birdwing butterfly! Wow! It's about the size of a bird!" —New Leaf
"I caught a Queen Alexandra's birdwing! That's a feather in my cap!" —New Horizons
Queen Alexandra's Birdwing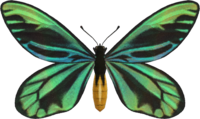 Real-world info
Name: Ornithoptera alexandrae
Family: Papilionidae - Swallowtail butterflies
Main appearances
Other appearances
Name in other languages
 アレキサンドラトリバネアゲハ

 亚历山大凤蝶

 Troides alexandrae

 Mariposa alas de pájaro

 Farfalla regina Alessandra

 Птицекрылка Александры
 알렉산드라비단제비나비

 亞歷山大鳳蝶

 Troides alexandrae

 Mariposa alas de pájaro

 Vogelfalter

 Alexandra's vogelvlinder
The Queen Alexandra's Birdwing (アレクサンドラアゲハ, Arekusandora ageha), known as the Birdwing Butterfly prior to New Horizons and as the Large Butterfly in Doubutsu no Mori e+, is considered the rarest butterfly in the series, with reference to its immense size and rarity in real life. It can be found during the summer, between June and September (from May to September in New Horizons), from 8 AM to 5 PM. It can be found flying near flowers.
Catch details
[
edit
]
Wild World

[

edit

]
   ''The largest butterflies in the world, they have been mistaken for birds and shot."


Size- 260 mm
Season- Summer
Time- Midday
City Folk

[

edit

]
    ''Known as the world's largest butterfly, this species boasts larger females."


Size- About 260 mm
Season- Summer
Time- Noon
In New Leaf

[

edit

]
Time of Year
Jun - Sep
All year (Tortimer Island)
Time of Day
8 AM - 4 PM
Peak Times
N/A
Location
Flying near flowers
Tortimer Island
Size
250 mm
Rarity
Very rare
Selling Prices
 4000 Bells
Tank Size
In Pocket Camp

[

edit

]
N/AUnknownSunburst Island233.7 mm - 266.4 mm★★★Cannot be caught at this time.3,500
In New Horizons

[

edit

]
Time of Year
North: May – Sep
South: Nov – Mar
Time of Day
8 AM – 4 PM
Location
Flying near flowers
Rarity
Total Catch
50
Selling Prices
 Nook's Cranny:  4000 Bells
 Flick:  6000 Bells
Tank Size
Donating to the museum
[
edit
]
As with all insects in the Animal Crossing series, the Birdwing Butterfly can be donated to the museum followed by a short monologue by Blathers, the curator.
In Wild World

[

edit

]
"Though I know this is a type of tiger butterfly, its size is simply monstrous! Are you trying to terrify me with this behemoth? No, you wouldn't do that. Rather shabby of me to suggest you would... Please accept my apologies!"
In City Folk

[

edit

]
"Hoo my, what a butterfly... I now see why it's touted as the world's largest butterfly, eh wot? I'd heard the wings of this particular butterfly can extend over a foot...but up close, they look bigger still! If one of these flew into me while I was out flying... I'd likely pass out in horror and plummet on the spot!"
In New Leaf

[

edit

]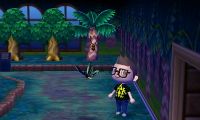 Upon being donated, the butterfly can be found in the room of the bug exhibit with the Rafflesia. The exhibit has this to say about the Birdwing Butterfly:
"The world's largest butterflies, birdwing butterflies, have wings that can measure 30 cm long.The females have longer wings than the males, while the males' wings have a deeper blue color. Though they are extremely popular with collectors, international trading is either limited or fully banned."
In New Horizons

[

edit

]
"Hoo! The horror! This behemoth butterfly may be called a Queen Alexandra's birdwing...But I call it the Queen of My Nightmares! It is huge! Indeed, the world's hugest. No butterfly can best its foot-long wingspan. The larvae alone grow to more than 4 inches. As if that weren't appalling enough...they're poisonous! Murderous monsters, indeed!"
When donated, the Queen Alexandra's birdwing flies around the butterfly room in the museum's bug exhibit.
Commissioning a model
[
edit
]
In Animal Crossing: New Horizons, if the player brings three Queen Alexandra's Birdwings to Flick to commission a model, he will say the following:
"R-really? You want a sculpture of a Queen Alexandra's birdwing? The angel that flaps among us? These glorious spirits are like lenses through which we can see the purity of the Infested Realms. I promise this will be my sublime-est masterpiece, and I shall title it The Grand Queen Alexandra's Birdwing!"
Gallery
[
edit
]
Real-world information
[
edit
]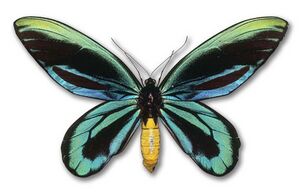 The Queen Alexandra's birdwing (Ornithoptera alexandrae) is considered the largest butterfly in the world, named after Queen Alexandra, wife of King Edward VII of the United Kingdom. It was discovered by Albert Stewart Meek, who was employed by Lord Walter Rothschild (who named it) in 1907, in Papua New Guinea. It was shot down using a shotgun, but its early stages were discovered and bred through to get to this stage. The female birdwing has a wingspan of up to 31cm, while the male (which appears in game) has a smaller wingspan of up to 26cm. The birdwing flies quite high in the rainforest, making it hard to catch, which is the main reason hunters shoot them with shotguns. The birdwing in Animal Crossing also flies higher than usual butterflies, a reference to its flying habits in the real world.
The birdwing is endangered, threatened by habitat loss. Most of Papua New Guinea's rainforests were destroyed during a volcanic eruption, wiping out parts of the birdwing's habitat.
Names in other languages
[
edit
]
アレキサンドラトリバネアゲハ


arekisandora-toribaneageha

Alexandria's birdwing butterfly

---

알렉산드라비단제비나비


alleksandeurabidanjebinabi

---




亚历山大凤蝶

 

/

 

亞歷山大鳳蝶


yàlìshāndà fèngdié

Alexandria's swallowtail

---

Птицекрылка Александры


Ptitsekrylka Aleksandry

Alexandria's birdwing

---

Alexandria's vogelvlinder

Alexandria's birdwing

---

Vogelflügler
Vogelfalter (NH)
Derived from Vogelflügel (bird wing)
"Bird butterfly", shortened from full name "Königin-Alexandra-Vogelfalter"

---

Mariposa alas de pájaro

Birdwing butterfly

---

Ornithoptère
Troides alexandrae (NH)
From genus name
Former scientific name

---

Farfalla cobra
Farfalla regina Alessandra (NH)
Cobra butterfly (mistranslation; see Atlas Moth)
Queen Alexandria's butterfly
アレキサンドラトリバネアゲハarekisandora-toribaneagehaAlexandria's birdwing butterfly알렉산드라비단제비나비alleksandeurabidanjebinabiUnknownUnknownUnknown亚历山大凤蝶亞歷山大鳳蝶yàlìshāndà fèngdiéAlexandria's swallowtailUnknownUnknownUnknownПтицекрылка АлександрыPtitsekrylka AleksandryAlexandria's birdwingAlexandria's vogelvlinderAlexandria's birdwingVogelflügler
Vogelfalter (NH)Derived from Vogelflügel (bird wing)
"Bird butterfly", shortened from full name "Königin-Alexandra-Vogelfalter"Mariposa alas de pájaroBirdwing butterflyUnknownUnknownOrnithoptère
Troides alexandrae (NH)From genus name
Former scientific nameUnknownUnknownFarfalla cobra
Farfalla regina Alessandra (NH)Cobra butterfly (mistranslation; see Atlas Moth)
Queen Alexandria's butterflyUnknownUnknown