Happy Home Showcase
From Nookipedia, the Animal Crossing wiki

Outside the HHS

Inside the plaza
Music (New Leaf)
https://nookipedia.com/wiki/File:NL_Happy_Home_Showcase.flac
Function
Visit StreetPass players' homes
Staff
Digby
Opening Hours
All day
Main appearances


Other appearances

Names in other languages

 

Unknown

 

Unknown

 

Unknown

 

Unknown

 

Unknown

 

Unknown

 

Unknown

 

Unknown

 

Unknown

 

Unknown

 

Unknown

 

Unknown
The Happy Home Showcase is a plaza that appears in Animal Crossing: New Leaf, allowing players to meet and visit other players' homes after connecting through the StreetPass feature of the Nintendo 3DS. This feature is not available when the system has parental controls on—Digby blocks the player if they try to enter.
Features
[
edit
]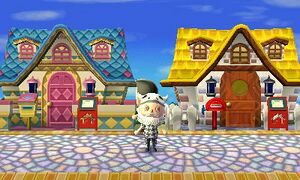 The Happy Home Showcase contains model homes that belong to players that have been StreetPassed with. StreetPassed players will walk around the plaza, holding items such as ice cream cones, balloons, and pinwheels, which represent the number of times they have been StreetPassed.
There are three blocks of houses in the StreetPass plaza, each with 16 homes, allowing each player to visit 48 StreetPassed players at a given time before homes start being replaced. However, the player can save up to 16 houses so they don't get replaced; homes that have been saved are noted on the map by a pink lock with a heart over the house's location. Houses that have not been visited are marked as yellow on the map, while houses that have a yellow outline have been updated since last visited. Houses that have been seen and are not saved are shown in gray.
The player can also order items from the house that they are visiting, though special items cannot be bought, such as refurbished items or items that cannot usually be ordered from the catalog. Only 5 items from each house can be ordered at a time, per day,[1] and they have a 20% markup, rounded down. Players can also see the badges that other players have earned from Phineas for activities.[2]
Special items
[
edit
]
Players received via StreetPass sometimes hold items that will be given to the player after they have been StreetPassed a certain amount of times. The colors of the items are random.
Official homes
[
edit
]
North American and European players could receive special homes belonging to members of the game's staff as well as other Nintendo employees through SpotPass.[3]
Name
Town
Image
Distribution date(s)
Reggie
Nirvana
June 24, 2013[4]
December 30, 2013[4]
Rich
Ramburg
July 1, 2013[4]
Krys
Clover
July 8, 2013[4]
DY
HighNote
July 15, 2013[4]
Lindsey
Autumn
July 22, 2013[4]
Kate
Lizards!
July 29, 2013[4]
Corey
Kihei
August 5, 2013[4]
Steph
Leafy
August 12, 2013[4]
Bill
Cascadia
August 19, 2013[4]
Reiko
Biscotti
August 26, 2013[4]
Ray
Joyo
September 2, 2013[4]
Chiko
ToriTori
September 9, 2013[4]
Nate
Beantown
September 16, 2013[4]
Snay
Snerkvil
September 23, 2013[4]
Covet
Latte ☆
October 7, 2013[4]
Dano
Alexis
October 21, 2013[4]
César
Tijuana
November 4, 2013[4]
Annimal
Wooville
November 18, 2013[4]
Kébec
Hélène
December 2, 2013[4]
Aminka
Shigtown
December 16, 2013[4]

This section could be improved with the addition of images.

This section could be improved with the addition of images.
Gallery
[
edit
]
A player using an out of bounds glitch near the HHS entrance
References
[
edit
]