Snow Crab
From Nookipedia, the Animal Crossing wiki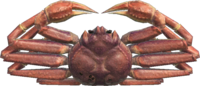 Real-world info
Name: Chionoecetes opilio
Family: Oregoniidae
Main appearances
Other appearances
Name in other languages
ズワイガニ
松叶蟹
Crabe des neiges
Cangrejo de nieve
Granchio della neve
Краб-стригун
대게
松葉蟹
Crabe des neiges
Cangrejo de nieve
Schneekrabbe
Sneeuwkrab
The Snow Crab (ズワイガニ, Zuwaigani) is a sea creature (fish in Pocket Camp) in the Animal Crossing series introduced in Animal Crossing: New Leaf.
While initially absent from Animal Crossing: New Horizons, the Snow Crab was added in the 1.3.0 Free Summer Update.
Catch details
[
edit
]
In New Leaf

[

edit

]
| | |
| --- | --- |
| Time of year | Nov - Apr |
| Time of day | All day |
| Peak times | N/A |
| Shadow size | Large |
| Shadow movement | Uniform |
| Sea creature size | 30 cm |
| Rarity | Uncommon |
| Selling price |  4,000 Bells |
| Furniture size | |
In Pocket Camp

[

edit

]
In New Horizons

[

edit

]
Time of year
North: Nov – Apr
South: May – Oct
Time of day
All day
Shadow size
Large
Shadow movement
Fast
Spawn requirement
Catch 40 total sea creatures
Selling price
 6,000 Bells
Furniture size
Donating to the museum
[
edit
]
In New Leaf

[

edit

]
After the player donates a Snow Crab to the museum, it can be found in the large pool in the first room of the sea exhibit, along with the other crab species. The exhibit has this to say about the snow crab:
"Snow crabs live in the sea and are known mostly as a highly prized winter delicacy. When cooked, the typically dark-red shell turns to the beautiful bright-red color most commonly seen. They have a life span of 20 years and gradually grow bigger while periodically molting. If a leg is lost, it will grow back when molting occurs. The female is about half the size of the male."
In New Horizons

[

edit

]
"The snow crab truly lives up to its name, wot wot. They are most often found in cold northern seas. Some have even been discovered living in the Arctic Ocean! Indeed, snow crab prefer to live in deep water that never gets more than three degrees above freezing. Hooooo. Just thinking about their icy environs is giving me the chills!"
Gallery
[
edit
]
Real-world information
[
edit
]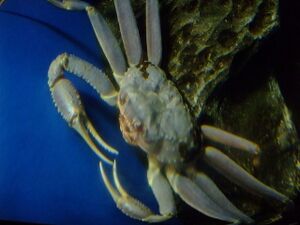 The snow crab is a crustacean native to shelf depths in the northwest Atlantic Ocean and north Pacific Ocean. They eat other invertebrates in the bottom of the sea, such as other crustaceans, bivalves (mollusks), and polychaetes (worms), as well as fish and, in times, themselves. They can grow up to 16.5 cm for males and 9.5 cm for females.
More information on this topic is available at Wikipedia.
Names in other languages
[
edit
]
ズワイガニ


zuwai-gani
Snow crab