Mahi-mahi
From Nookipedia, the Animal Crossing wiki
| | | |
| --- | --- | --- |
| | Mahi-mahi |   |

Real-world info
Name: Coryphaena hippurus
(mahi-mahi)
Family: Coryphaenidae (mahi-mahis)
Main appearances
Other appearances
Names in other languages
シイラ
만새기
Lampuga
Goldmakrele
鬼头刀
Coryphène
Lampuga
Goudmakreel
鬼頭刀
Mahi-mahi
Lampuga
Корифена
The mahi-mahi (pronounced /ˈmɑːhiːˈmɑːhi/, "MA-hee-MA-hee") is a sea fish in the Animal Crossing series, introduced in Animal Crossing: New Horizons, where it can be found exclusively at the pier. It also appears in Animal Crossing: Pocket Camp as an event fish that was available for a limited time during Fishing Tourney: Fintastic, from November 12 to November 19, 2020.
Catch details
[
edit
]
In Pocket Camp

[

edit

]
| | |
| --- | --- |
| Event availability | Fishing Tourney 32 (Fintastic) |
| Location | Saltwater Shores |
| Shadow size | Sparkling |
| Fish size | 105.1 cm – 114.9 cm |
| Rarity | ★★★ |
| Catch rate | Event only |
| Selling price |  N/A Bells |
| Request reward |  N/A Bells |
In New Horizons

[

edit

]
Donating to the museum
[
edit
]
As with all fish in the Animal Crossing series, the mahi-mahi can be donated to the museum, followed by a small talk by Blathers about it.
In New Horizons

[

edit

]
When donating to Blathers or selecting "Tell me about this!" in New Horizons, he will provide the following information about the fish:
"The mahi-mahi is an ocean fish known for its wide, somewhat-cute face. It can reach over six feet long. It is known by many different names including "dolphinfish," even though it has no relation to dolphins. They live only in warm, tropical waters...which perhaps explains the relaxed, happy look on their faces."
Once donated, the mahi-mahi can be found in the north-east room of the fish exhibit, in the large central tank with the porthole windows. It will often swim near the glass wall, and sometimes will try to pierce the Anchovy school, scattering them for a moment - it shares this behavior with many of the large fish also in this tank.
Gallery
[
edit
]
Real-world information
[
edit
]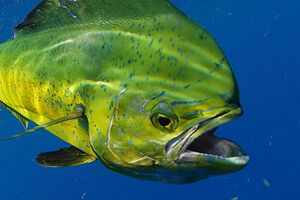 Mahi-mahi, also referred to as the common dolphinfish is a surface-dwelling ray-finned fish found in off-shore temperate, tropical, and subtropical waters worldwide. It is one of two members of the family Coryphaenidae, alongside the pompano dolphinfish. These fish are most commonly found in the waters around the Gulf of Mexico, Costa Rica, and Hawaii.

More information on this topic is available at Wikipedia.
Names in other languages
[
edit
]
シイラ


shīra
Mahi-mahi/Coryphaena

---

만새기


mansaegi
Mahi-mahi/Coryphaena

---

鬼头刀


guǐtoúdāo
Mahi-mahi/Coryphaena (lit. "monster-headed knife")

---

鬼頭刀


Unknown

---

Корифена


Korifena
From genus name

---

Goudmakreel

Mahi-mahi/Coryphaena (lit. "golden mackerel")

---

Goldmakrele

Coryphaena (lit. "golden mackerel")

---

Lampuga

Mahi-mahi

---

Coryphène

From genus name

---

Mahi-mahi

-

---

Lampuga

Mahi-mahi