Barred Knifejaw
From Nookipedia, the Animal Crossing wiki
Real-world info
Name: Oplegnathus fasciatus
(barred knifejaw)
Family: Oplegnathidae (knifejaws)
Main appearances
Other appearances
Name in other languages
イシダイ
条石鲷
Ishidai
Dorada japonesa
Ishidai
Полосатый оплегнат
돌돔
條石鯛
Ishidai
Dorada japonesa
Schnabelbarsch
Kraaibek

The Barred Knifejaw (イシダイ, Ishidai) is a saltwater fish in the Animal Crossing series introduced in Animal Crossing.
Catch details
[
edit
]
In Animal Crossing

[

edit

]
In Wild World

[

edit

]
In City Folk

[

edit

]
In New Leaf

[

edit

]
In Animal Crossing: New Leaf, a Barred Knifejaw is used for the Barred Knifejaw Sauté dish during the Harvest Festival.
In Pocket Camp

[

edit

]
In New Horizons

[

edit

]
In Animal Crossing: New Horizons, a Barred Knifejaw is the secret ingredient for Franklin to use in the Fish Meunière dish on Turkey Day.
Use in cooking
[
edit
]
Barred Knifejaw is used as a cooking ingredient in the cooking recipes for the following items:
Recipes in Animal Crossing: New Horizons
Includes data sourced from this Item Spreadsheet, compiled by 6480, noizhub, Ricky, chaiinchomp, saberslime, robotic_scarab, mollumisc, sunmarsh, kyrokey, obstinateRixatrix, jackiwi, Zalex, SuperHamster, kait, hyuum, Azarro, Czarcasm, cinnamon_swirlix, astronomyfortwo, Welcius, glowtopia, BriKun, Alyrei, dodocodes.com, StevieCoops, sneeze, Shiny190, TwistedPeach, LavaToaster, capstone, vmario, rocklamp, Alexis, Aeon, and PanchamBro.
Donation to the museum
[
edit
]
As with all fish caught in the Animal Crossing series, the barred knifejaw can be donated to the museum in each game by talking to Blathers, who will also give some information on it.
In Animal Crossing

[

edit

]
Blathers will give this speech upon donation:
"Hoo! Indeed, WOO hoo! A barred knifejaw, I believe. Hoo! Hoo, I say! Just look at this magnificent creature! Truly, a king among edible aquatic beasts of the world! Tuna, scallops, oysters, lobsters, salmon, halibut, crabs, barnacles... Well, maybe not barnacles... One would have to be in dire straits indeed to consume a few of those jagged beasties!
Now then, what say we set this chap up in his new home, eh wot?"
In Wild World

[

edit

]
When the player donates this fish, Blathers will say this:
"<Player>, the very fact that you caught this tells me that you are quite a fisher! Oh, a recipe for Barred Knifejaw? I'd recommend putting it in a broth. Grilling makes the flesh rather tough, eh wot?"
In City Folk

[

edit

]
When the player donates the barred knifejaw, Blathers will say this:
"Hootie hoo, look at you! You've hauled in a star catch this time! Indeed, simply marvelous work! The Barred Knifejaw is a clever fish that, it's said, requires some rather fancy fishing to catch. Their monotone color scheme certainly paints them as smart, sensible fish in my eyes, eh wot?"
In New Leaf

[

edit

]
An information board in the aquarium will display this description of the barred knifejaw after donation:
"Barred knifejaws stand out thanks to the seven stripes adorning their white bodies. Their natural curiosity and strong pull make them a popular target of anglers, but they're no easy catch. They have strong teeth that allow them to make short work of sea creatures with tough shells. This means that both urchins and mollusks need to be careful, lest they become meals for these fish."
In New Horizons

[

edit

]
When donating to Blathers or selecting "Tell me about this!" in New Horizons, he will provide the following information about the fish:
"The barred knifejaw, also called the striped beakfish, is a lovely fish with a distinctive striped pattern. It is reportedly also a very curious fish in that it has been known to approach swimmers to "greet" them. They also tend to be good at avoiding fishing hooks, so well done on outwitting this one!"
Gallery
[
edit
]
Real-world information
[
edit
]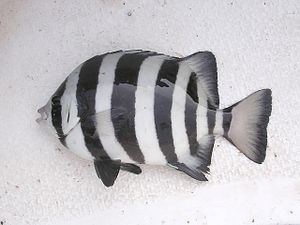 The striped beakfish, also known as the barred knifejaw, is a tropical fish, generally found in coral reefs and around Japan. It has been seen in Hawaii, but only once. It normally eats invertebrates.
Names in other languages
[
edit
]
イシダイ


ishidai
Barred knifejaw

---

돌돔


doldom
Barred knifejaw

---




条石鲷

 

/

 

條石鯛


tiáoshí diāo
Barred knifejaw

---

Полосатый оплегнат


Polosatyy oplegnat
Striped beakfish

---

Kraaibek

Knifejaw

---

Schnabelbarsch

Knifejaw (lit. "Beak Bass")

---

Dorada japonesa

Japanese bream

---

Ishidai

Transliteration of Japanese name

---

Ishidai

Transliteration of Japanese name