Crazy Redd's
From Nookipedia, the Animal Crossing wiki
"Redd's Gallery" redirects here. For a gallery of images relating to Redd, see Redd/Gallery.

Inside Redd's Gallery in Animal Crossing: New Leaf.

Music (New Leaf)
https://nookipedia.com/wiki/File:NL_Crazy_Redd%27s.flac
Function
Store
Services
Furniture (prior to New Leaf)
Art
Staff
Redd
Opening Hours
10 AM – 11 PM
Main appearances


Other appearances

Names in other languages

 

Unknown

 

Unknown

 

Unknown

 

Unknown

 

Unknown

 

Unknown

 

Unknown

 

Unknown

 

Unknown

 

Unknown

 

Unknown

 

Unknown
Crazy Redd's (known as Crazy Redd's Furniture Emporium in Animal Crossing and Redd's Gallery in New Leaf) is a store run by Redd, a fox with a shifty nature. The shop contains items that can also be bought from Tom Nook in his store, but for a higher price, as well as items sold exclusively by Redd which cannot be found anywhere else.
The shop also sells paintings which can be forgeries — these can be identified by Blathers, or when the player attempts to sell them. Most paintings (and all paintings beginning in New Leaf) are sold here.
In New Horizons, the store is replaced by the Jolly Redd's Treasure Trawler.
Appearances
[
edit
]
In Animal Crossing

[

edit

]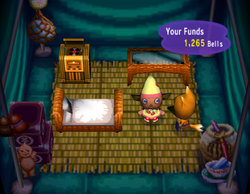 In Animal Crossing, Crazy Redd's Furniture Emporium appears once a month. Before he arrives in town, Redd sends the player a letter telling them the date at which he will set up his tent. On this date, the player can find Redd's tent in town, having replaced a random signboard. The player can ask Copper for his location. He sells furniture and paintings, the latter of which can be donated to the museum. However, he charges four times as much as Tom Nook would charge for the same items.
Items sold at Redd's have a chance of being items that cannot be found at Tom Nook's. The chance of these items appearing goes up with red, green, and orange fêng shui, with the chance being 70% per item at maximum item luck fêng shui.
Crazy Redd's Furniture Emporium also appears on Sale Day, which is the day following the Harvest Festival and the fourth Friday in November. On Sale Day, Redd will reappear in another acre with more items after his entire stock is purchased. This happens indefinitely throughout the whole day.
In Wild World

[

edit

]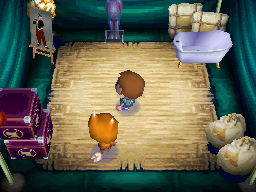 In Animal Crossing: Wild World, Crazy Redd's appears once a week outside town hall and requires a password to enter. If the player has not yet visited the shop, a villager will tell them the password on the day the shop is in town. Once the player enters Crazy Redd's, they must purchase a membership for 3,000 Bells. Redd will not extend this membership if the player has insufficient Bells. With the membership, the player can purchase items from the shop and Redd will send them a letter containing the shop's password every week the day before he visits. When signing up for insurance with Lyle, the player will be asked which day of the week they would like Redd to visit on.
Crazy Redd's contains three furniture items, with one always being a painting. The painting has a 50% of being a forgery, and the other two furniture items each have a 50% chance of being either an exclusive Redd item or a standard item available from Tom Nook's store. Redd charges double for all furniture items in his shop. For example, purchasing a Solemn Painting in Crazy Redd's costs the player 3,920 Bells whereas buying it from the Catalog costs 1,960 Bells.
List of passwords
[
edit
]
Each password starts with the first part of a phrase given by Redd, and the player must complete the phrase.
| Redd's phrase | Player's answer |
| --- | --- |
| An open wallet | is often empty |
| Ask and you shall | be charged |
| Bottom dollar | top dog |
| Courage is nice | cash is freedom |
| Crazy Redd | is 35 |
| Even robbers | have safes |
| Fan in one hand | cash in other |
| Foot in the door | eye on prize |
| For Redd's fans | shop here again |
| Get an education | or win it big |
| Give 2 cents | ask for change |
| Golden ingots? | Redd Bells |
| Grass is greener | on my side |
| Head in sand | find something |
| Honest/Healthy souls | can be bought |
| Hot and cold | money makes it |
| I'm all alone | but I have cash |
| Life expectancy | Redd is 35 |
| Look at people | wallets full |
| Neighbor Raccoon | one ugly fellow |
| No flowers | just cash |
| No money | means no fun |
| Roses have | high prices |
| Rough childhood | lax adulthood |
| Someone to wed | no way Nook |
| Spoiled rotten | bean curd |
| Talk is cheap | so is Redd |
| Thankless task | goes unpaid |
| The cat's away | mice shop |
| The pen is mightier | and cheaper |
| Turn back | what'd you miss |
| What's fabulous | is inside |
| What's inside | is fabulous |
| Why buy the cow | get milk here |
In City Folk

[

edit

]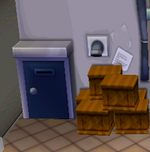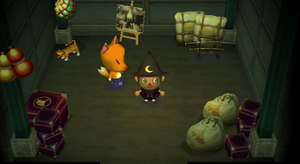 In Animal Crossing: City Folk, Crazy Redd's appears as a small building in the city to the left down what villagers call a "dark alley", in what is described as a "shifty" part of the city. It is open from 10:00 AM to 1:00 AM. No one is allowed inside without an invitation, which must be given to the player by a villager in their town, or another playable character who has been given an invite by Redd himself. Even with an invitation, there is a one-time fee of 3,000 Bells to enter, but he gives the player 1,000 Bells for every player they send an invite card to that visits, similarly to a pyramid scheme. Similar to previous games, the majority of the game's paintings can be bought only from Crazy Redd's. A number of these paintings can be forgeries, however, which can be identified by Blathers and Tom Nook. Usually, after traveling ahead in time, Crazy Redd's will be closed until the next Wednesday.
In New Leaf

[

edit

]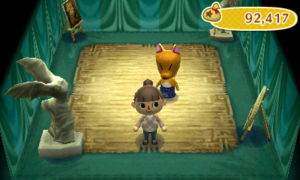 In Animal Crossing: New Leaf, Redd's Gallery appears on certain days in the event plaza, near the town tree. The player can also check for the presence of Redd's Gallery by visiting the police station, where Booker or Copper will inform the player of his visit. He appears on a random day, except Sunday, and no more than once per week. He may not visit at all on a given week. The shop will only offer works of art. He sells four works of art at a time. Players can examine the item they want to buy. When a player makes a purchase, he does not give the item to them right there and then; instead, he marks it off as sold, and mails it to them, where it arrives the next day. Once players have made a decision, they cannot change the item; in addition to this, players can only purchase one work of art from Redd in a single day, even if they visit another town where his tent is set up.
Only one player is allowed in Redd's Gallery at a time. In multiplayer, when there's already a player inside the building, other players cannot enter.
In Gekijōban Doubutsu no Mori

[

edit

]
In 🎬 Gekijōban Doubutsu no Mori, Crazy Redd's store is set up during the Fireworks Show. However, unlike the games, Redd is selling his goods outside of his tent, while his supplies are all hiding inside. Redd tricks Yū and Alfonso into purchasing a fake Golden Slingshot. Claiming that the fake Slingshot was rare, he actually had an entire box filled with them hiding inside his tent.
Artwork
[
edit
]
In City Folk

[

edit

]
In City Folk, Redd's is the one out of two places paintings can be purchased. Another place is Tom Nook's though it is very rare. Any painting can appear at Redd's, but only the Basic Painting and the Common Painting can appear at Nook's. However, when buying paintings from Crazy Redd's, there is always a chance that the painting is a forgery. But paintings from Tom Nook are guaranteed to be genuine. This is found out when a player tries to donate or sell the item, in which case Blathers or Tom Nook will point out the duplicity. Forged paintings can be sold for 10 Bells, and have a Happy Room Academy value significantly less than that of the original painting.
In New Leaf

[

edit

]
In New Leaf, as in Animal Crossing: City Folk, Redd's shop is the only place to obtain artwork, but he no longer sells furniture at his shop. Now it is possible to spot fakes in the art on display by looking closely at the details of the artwork. Players can also use the D-Pad to change the camera angle to get a better view of the artwork if required. If the player tries to sell Reese a forged piece of artwork, she will recognize it as such and charge a 100 Bell disposal fee like with any other junk item.
Item list
[
edit
]
In Animal Crossing

[

edit

]
Crazy Redd's Furniture Emporium items in Animal Crossing
#

Item

Image

Buy price

Sell price

Available from

Group

Interact

Fêng shui

Size

1
Blue bed
 2,100 Bells
 525 Bells
 Crazy Redd's

-
Bed
-
9
Blue table
 1,800 Bells
 450 Bells
 Crazy Redd's

-
-
Yellow
12
Cabana bed
 2,200 Bells
 550 Bells
 Crazy Redd's

-
Bed
-
14
Cabana chair
 1,600 Bells
 400 Bells
 Crazy Redd's

-
Seating
-
24
Cabin chair
 1,700 Bells
 425 Bells
 Crazy Redd's

-
Seating
-
27
Cabin dresser
 2,160 Bells
 540 Bells
 Crazy Redd's

-
Storage
-
39
Classic vanity
 2,560 Bells
 640 Bells
 Crazy Redd's

-
Storage
-
40
Classic wardrobe
 2,560 Bells
 640 Bells
 Crazy Redd's

-
Storage
-
41
Exotic bed
 2,540 Bells
 635 Bells
 Crazy Redd's

-
Bed
-
49
Exotic table
 2,300 Bells
 575 Bells
 Crazy Redd's

-
-
-
56
Green dresser
 2,320 Bells
 580 Bells
 Crazy Redd's

-
Storage
Green
60
Green wardrobe
 2,300 Bells
 575 Bells
 Crazy Redd's

-
Storage
Green
61
Kiddie bed
 2,100 Bells
 525 Bells
 Crazy Redd's

-
Bed
-
65
Kiddie clock
 1,480 Bells
 370 Bells
 Crazy Redd's

-
-
-
72
Lovely armoire
 2,240 Bells
 560 Bells
 Crazy Redd's

-
Storage
-
76
Lovely end table
 1,800 Bells
 450 Bells
 Crazy Redd's

-
-
-
86
Modern end table
 1,900 Bells
 475 Bells
 Crazy Redd's

-
-
-
90
Modern wardrobe
 2,560 Bells
 640 Bells
 Crazy Redd's

-
Storage
-
94
Ranch chair
 1,400 Bells
 350 Bells
 Crazy Redd's

-
Seating
-
96
Ranch dresser
 2,720 Bells
 680 Bells
 Crazy Redd's

-
Storage
-
102
Regal bed
 3,120 Bells
 780 Bells
 Crazy Redd's

-
Bed
-
104
Regal chair
 2,100 Bells
 525 Bells
 Crazy Redd's

-
Seating
-
153
Backyard pool
 990 Bells
 247 Bells
 Crazy Redd's

-
-
-
162
Lawn mower
 2,760 Bells
 690 Bells
 Crazy Redd's

-
-
Red
171
Judge's bell
 1,790 Bells
 447 Bells
 Crazy Redd's

-
Press
-
173
Red corner
 6,800 Bells
 1,700 Bells
 Crazy Redd's

-
Bed
Red
178
Black bishop
 2,800 Bells
 700 Bells
 Crazy Redd's

-
-
-
180
Black knight
 2,800 Bells
 700 Bells
 Crazy Redd's

-
-
-
183
Black rook
 2,800 Bells
 700 Bells
 Crazy Redd's

-
-
-
184
White bishop
 2,800 Bells
 700 Bells
 Crazy Redd's

-
-
-
186
White knight
 2,800 Bells
 700 Bells
 Crazy Redd's

-
-
-
189
White rook
 2,800 Bells
 700 Bells
 Crazy Redd's

-
-
-
207
Steam roller
 4,500 Bells
 1,125 Bells
 Crazy Redd's

-
-
Yellow
210
Deer scare
 1,800 Bells
 450 Bells
 Crazy Redd's

-
-
Green
240
Letter cubby
 2,300 Bells
 575 Bells
 Crazy Redd's

-
-
-
258
Saddle fence
 2,180 Bells
 545 Bells
 Crazy Redd's

-
-
-
263
Well
 2,700 Bells
 675 Bells
 Crazy Redd's

-
-
-
288
Timpano drum
 2,100 Bells
 525 Bells
 Crazy Redd's

-
Instrument
-
289
Aiko figurine
 800 Bells
 200 Bells
 Crazy Redd's

-
-
-
301
Luigi trophy
 7,000 Bells
 1,750 Bells
 Crazy Redd's
 Secret code

-
-
Special
317
Robo-clock
 1,400 Bells
 350 Bells
 Crazy Redd's

-
-
-
319
Bass
 2,400 Bells
 600 Bells
 Crazy Redd's

-
Instrument
-
324
Frog woman pole
 1,400 Bells
 350 Bells
 Crazy Redd's

-
-
-
365
Computer
 1,820 Bells
 455 Bells
 Crazy Redd's

-
-
-
367
Super toilet
 1,980 Bells
 495 Bells
 Crazy Redd's

-
Seating
-
377
Wide-screen TV
 2,200 Bells
 550 Bells
 Crazy Redd's

-
Toggle
-
385
Ebony piano
 3,800 Bells
 950 Bells
 Crazy Redd's

-
Instrument
-
434
Turntable
 2,580 Bells
 645 Bells
 Crazy Redd's

-
Stereo
-
436
High-end stereo
 2,750 Bells
 687 Bells
 Crazy Redd's

-
Stereo
-
439
Lovely stereo
 7,920 Bells
 1,980 Bells
 Crazy Redd's

-
Stereo
-
440
Dice stereo
 2,150 Bells
 537 Bells
 Crazy Redd's

-
Stereo
-
448
Amazing painting
 1,960 Bells
 490 Bells
 Crazy Redd's

-
-
-
449
Basic painting
 1,960 Bells
 490 Bells
 Crazy Redd's

-
-
-
450
Common painting
 1,960 Bells
 490 Bells
 Crazy Redd's

-
-
-
451
Dainty painting
 1,960 Bells
 490 Bells
 Crazy Redd's

-
-
-
452
Famous painting
 1,960 Bells
 490 Bells
 Crazy Redd's

-
-
-
453
Flowery painting
 1,960 Bells
 490 Bells
 Crazy Redd's

-
-
-
454
Moving painting
 1,960 Bells
 490 Bells
 Crazy Redd's

-
-
-
455
Quaint painting
 1,960 Bells
 490 Bells
 Crazy Redd's

-
-
-
456
Scary painting
 1,960 Bells
 490 Bells
 Crazy Redd's

-
-
-
522
Clu Clu Land
 3,000 Bells
 750 Bells
 Crazy Redd's

-
NES game
Red
529
Golf
 3,000 Bells
 750 Bells
 Crazy Redd's

-
NES game
-
530
Pinball
 3,000 Bells
 750 Bells
 Crazy Redd's

-
NES game
Yellow
535
NES
 3,000 Bells
 750 Bells
 Crazy Redd's

-
Text
-
Crazy Redd's audio tracks