Plaza
From Nookipedia, the Animal Crossing wiki
For the Wii U application, see Animal Crossing Plaza.

The plaza on the player's first day on their island in Animal Crossing: New Horizons.

Function
Community spot
Services
Events
Main appearances


Other appearances
The plaza, known as the event plaza in New Leaf, is a location in Animal Crossing: New Leaf and Animal Crossing: New Horizons. It serves as a communal hub of the town. During certain events and holidays and random visits, special characters can be found in the plaza.
The plaza is in many ways similar to the wishing well in Animal Crossing and Doubutsu no Mori e+, and it also replicates certain functions of the town hall from Wild World and City Folk.
Appearances
[
edit
]
In New Leaf

[

edit

]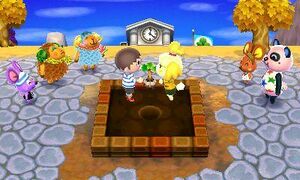 At the beginning of Animal Crossing: New Leaf, the player who is designated mayor will participate in a ceremony and plant a sapling in the center of the plaza. The sapling will grow steadily based on the amount of time the game has been played, going through five different stages of growth until it ultimately reaches a humongous size. If a player sits on the brick wall surrounding the town tree once it reaches a certain size, they will be able to view a list of accomplishments and statistics during their time as mayor.
During events or holidays, special characters can be found here, including Chip, Nat, Katrina, and Redd, who will set up tents or stalls whenever they visit the player's town. Additionally, other attractions such as face boards may be present during some events. In other events, Isabelle can be found within the plaza and will give each player a gift, much like Tortimer does in previous games. Whenever Isabelle is present in the plaza, the town hall will always be closed.
In New Horizons

[

edit

]
In Animal Crossing: New Horizons, the plaza is situated in front of Resident Services, initially appearing as a dirt area with a wooden boundary. As part of the upgrade of Resident Services from a tent to a building, the plaza is upgraded to a brick design. Like Resident Services itself, its location on the island is set permanently when an island design is selected at the start of the game and cannot be moved.
Much like the plaza from New Leaf, events throughout the year such as the Bug-Off and Fishing Tourney are hosted here, and traveling visitors such as K.K. Slider, Label, Kicks, or Leif will periodically appear here to offer their services.
Initially, Tom Nook will make announcements in the plaza; however, after upgrading Resident Services, Isabelle will make announcements indoors.
Players cannot place their own furniture in the plaza; however, furniture items such as benches, stools or barbecues may appear there from time to time, either randomly or for specific events, and cannot be moved or taken by the player. Changes can sometimes be triggered after exiting a building; setup and cleanup of this furniture will not be shown on-screen. Occasionally, a villager or group of villagers does an activity in the plaza, such as exercising or singing.
Villager activities
[
edit
]
Doing yoga
Exercising
Playing
Cleaning
Sitting on stools or a bench
Singing
Sunbathing
Using a barbecue
Playing with sparklers
Gallery
[
edit
]
New Leaf

[

edit

]
New Horizons

[

edit

]
Names in other languages
[
edit
]
広場


Hiroba
Plaza