Difference between revisions of "Boomer"
Jump to navigation
Jump to search
m

m (Text replacement - "zhq-r=" to "zh-r=")

Line 208:
Line 208:
 

|ru-m=

 

|ru-m=

 

|zhq=秀益

 

|zhq=秀益

−

|zhq-r=

+

|-r=

 

|zhq-m=Transliteration of the Japanese name

 

|zhq-m=Transliteration of the Japanese name

 

}}

 

}}
---
Revision as of 05:42, May 17, 2020
Boomer
 

| | | |
| --- | --- | --- |
|  Unknown |  Unknown |  Unknown |
|  Unknown |  Unknown |  Unknown |
|  Unknown |  Unknown |  Unknown |

Birthday
February 7th
(ACCF onwards)
(ACGC & DnM e+)
Phrase
human
Clothes
Blue Aloha Shirt*
Explorer Tee*
Saying
Flying is believing.
Main Games
Other Games
Islander fruit
preferences
Boomer is a lazy penguin villager who first appears in Animal Crossing as a islander. He is absent in Animal Crossing: Wild World, but reappears in later games. His name may come from the sound a bomb makes, boom. This is a reference to his appearance, which resembles a pilot. His Japanese catchphrase is also an onomatopoeia for a firing sound, further referencing his appearance.
Characteristics
Appearance

Boomer is an olive green penguin who wears a pilot's hat and goggles, with a tan backpack on his back. His eyes are thick, small black rectangles. His eyebrows are partially obscured by the goggles, but are similar to his eyes, except for being slightly longer and thinner. His flipper tips and belly are white, and his beak and legs are orange. Boomer bears a slight resemblance in appearance to Flash, a cranky bird islander.
Personality
Below is a brief description of the lazy personality. For more information, click here.
As a lazy villager, Boomer will enjoy napping and talking about food, as well as appearing calm and relaxed through most circumstances. Like all villagers, he will enjoy the usual hobbies. When he talks about clothes, he may mention his alter ego, "Fashion Lad", a made-up hero by lazy villagers who tackle fashion disasters. Snooty and jock villagers will find it difficult to get along with him, due to his relaxed lifestyle, which may cause offense to these villagers. Overall, he will get on well with other villagers in the town.
Fruit Allergy
In the original Animal Crossing, Boomer is allergic to cherries, and feeding him them will reduce the likelihood of him dropping money bags. His favorite fruit is pears.
Preferences
In City Folk
Favorites
Clothing
Refined
Strange
Furniture Genre
Retro/Dignified
Furniture Series
Classic
Furniture Color
Brown
Ideal Furniture for Boomer – Brown Retro/Dignified
| Name | Price | Available From |
| --- | --- | --- |
| Exotic Bed | 2,540 | Crazy Redd |
| Exotic Bureau | 2,400 | Tom Nook |
| Exotic Wardrobe | 2,180 | Tom Nook |
| Exotic Bench | 1,900 | Tom Nook |
| Exotic Chair | 1,400 | Tom Nook |
| Exotic Table | 2,300 | Crazy Redd |
| Exotic End Table | 1,600 | Tom Nook |
| Exotic Screen | 2,250 | Tom Nook |
| Exotic Chest | 1,800 | Spotlight |
| Ranch Bed | 2,300 | Tom Nook |
In New Leaf
Picture
Flying is believing.
Biography
Siblings
Eldest of 6 kids
Skill
oversleeping
Goal
Pilot
Fear
Wolves
Favorites
Clothing
Historical
Modern
Color
Brown
Coffee
Type
Blend
Milk
A little
Sugar
One spoonful
Ideal Gifts for Boomer – Brown Historical
House
In Doubutsu no Mori e+
In Doubutsu no Mori e+, Boomer's house does not have any furniture. He will request the items listed below from the player, and when given, he will use them to decorate his house.
In New Leaf
In New Horizons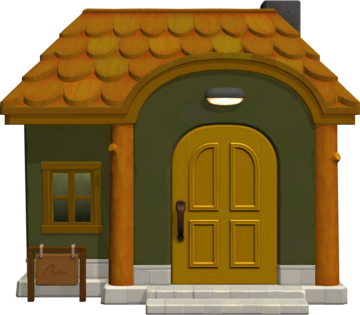 Other Appearances
In Happy Home Designer
Happy Home Designer House Info

Boomer

Type:
Penguin
Client's Vision:
A captain's cockpit.
Required Items:
Captain's monitor
Space captain's seat
Favorite Song:
-
Favorite Saying:
Flying is believing.
Card Profiles
Animal Crossing e-Reader Card
Animal Crossing-e card

Card back

#248 Boomer - Series 4

Gender:
Male
Species:
Penguin
Clothes:
Blue aloha shirt
Sign:
Capricorn
Phrase:
human
Password:
vp2xBSywTeLIQg
VMl6Kz3iktmqj7
Profile:

 
Boomer left the big city where errands, gardening, buying, selling, writing, digging, fishing, and bug-collecting all wore him down. One day, he up and moved to the islands, where he could loll about in the sun and avoid the crowds.
Animal Crossing amiibo Card
Animal Crossing amiibo card

Card back

#289 Boomer - Series 3

| | |
| --- | --- |
| Type: | Penguin |
| Star sign: | Aquarius |
| Birthday: | February 7th |
| Dice value: | 6 |
| Hand sign: | Scissors |
Gallery
Trivia
Names in other languages
팽기
Paenggi
Possibly a combination of the words "펭귄" (pengguin; penguin) and "비행기" (bihaenggi; airplane), referring to his pilot-inspired design

---

秀益 (iQue)
Unknown
Transliteration of the Japanese name

---

Max
May come from Maximus, a Latin family name meaning "[the] greatest."

---

Serafino
From the Hebrew word seraphim, which were angels with 6 wings. May be a reference to penguins inability to fly.

---

Ethan
From Hebrew, meaning solid or firm, in reference to his chubbiness.

---

Icaro
From the Greek mythical character Icarus, son of Daedalus, who died drowing in the sea, while fleeing from Crete, for flying too close to the Sun with his wings made of wax and feathers despite his father's warnings. An ironic remark about penguins' inability to fly despite being birds and Boomer's pilot-inspired design.