Special character
Jump to navigation
Jump to search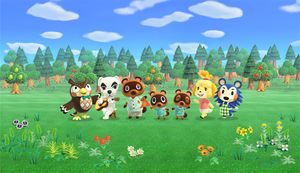 Special characters in the Animal Crossing series are non-villager characters that fulfil a variety of functions, including owning or running various establishments, hosting events or providing access to exclusive items.
Government
[
edit
]
These characters are all employed by the town to look after various civic functions.
Government Employees
Name
Image
Location
Description
Blathers
Museum
Curates the museum's exhibits and assesses fossils
Booker
Police Station DnM,AC,DnMe+,NL, Town Gate WW,CF
Runs the Lost and Found
Celeste
Museum WW,CF, NL
Wandering the island on random nightsNH
Runs the Observatory WW,CF or the Museum Shop NL, tells the player about wishing upon shooting stars and gives them various DIY recipes related to stars and space NH
Copper
Police Station DnM,AC,DnMe+,NL, Town Gate WW,CF
Information and Aerobics DnM,AC,DnMe+, Multiplayer Support WW,CF, Lost and Found NL
Gyroid
Next to House DnM,AC,DnMe+
Save game, set messages, store items
Isabelle
Town Hall NL
Resident Services NH
Secretary, event coordinator
Orville
Airport
Works at the airport, providing functions such as allowing the player to send mail to a resident of the island or friend.
Pelly
Post Office
Works the day shift in the Post Office
Pete
In town
Mail Delivery
Phyllis
Post Office
Works the night shift in the Post Office
Porter
Train Station DnM,AC,DnMe+,NL
Multiplayer Support
Tortimer
Wishing Well AC,DnMe+, Town Hall WW,CF, Tortimer Island NL
Mayor AC,DnMe+,WW,CF, Island Tour Host NL
Wilbur
Airport
Pilot for multiplayer and hosting mystery tours.
Proprietors
[
edit
]
These characters own or run the various businesses in town.
Proprietors
Name
Image
Location
Description
Beppe
OK Motors
Camper customization in Pocket Camp
Brewster
The Roost WW,CF, The Roost Café NL
Barista, Gyroid storage CF
Carlo
OK Motors
Camper customization in Pocket Camp
Cyrus
Re-Tail NL
Wedding Season NH
Furniture customization NL
Digby
Happy Home Showcase
Grants access to houses and players via Streetpass.
Dr. Shrunk
Randomly in town WW, The MarqueeCF, Club LOL NL
Teaches Emotions
Frillard
The Marquee CF (rare)
Teaches Emotions
Giovanni
OK Motors
Camper customization in Pocket Camp
Gracie
In Town all except CF, GracieGrace CF,NL
Exclusive clothing, Fashion Check NL, exclusive furniture CF,NL
Harriet
Shampoodle
Hair stylist and makeup artist
Harvey
Campground Wa
Harv's Island NH
Sells exclusive furniture for MEOW Coupons Wa
Katrina
In Town DnM,AC,DnMe+,WW, Fortune Shop CF,NL
Fortune teller and luck influencer
Kicks
City CF, Kicks (shop) NL, Island Plaza NH
Shoe shining CF, bag, shoe, and sock seller NL, NH
Label[nb 1]
GracieGrace CF, Able Sisters NL
Fashion Check NH
Clerk for Gracie CF, sells hats and accessories NL, fashion check NH
Leif
Garden Shop NL, Island Plaza NH
Sells plants, flowers and gardening tools, hosts weeding day, helps if town is overgrown
Lloid
Auction House CF, Various NL, NH
Auctioneer CF, PWP fund raising and tool lending NL, Island construction fund raising NH
Luna
Dream Suite
Access to dream towns
Lyle
In town WW, Happy Room Academy CF, Nook's Homes NL
Dodgy insurance WW, HRA/HHA rep CF,NL
Lottie
Nook's Homes
Furniture moving tutorial. She is also a main character in Happy Home Designer
Mabel
Able Sisters (all),
Visiting on a random weekday as well as Saturday/Sunday NH
Sells clothing
Redd
Crazy Redd's AC, WW, CF, NL, Jolly Redd's Treasure Trawler NH
Sells black market goods, including fakes.
Reese
Re-Tail NL
Wedding Season NH
Buys items from the player or puts them up for sale in the shop. NL
Sable
Able Sisters
QR codes NL, Distributes exclusive patterns to customize furniture NH
Timmy and Tommy
Nookington's DnM,AC,DnMe+,WW,CF, Timmy and Tommy's store NL
Resident Services and Nook's CrannyNH
Main town store
Tom Nook
Tom Nook's store AC,DnMe+,WW,CF, Nook's Homes NL
Resident ServicesNH
Mortgages (all games), main town store AC,DnMe+,WW,CF, housing exteriors NL,NH
Tutorials, announcements, and construction-based island functionsNH
↑

Called Labelle prior to NH, now using as a brand name.
Islanders
[
edit
]
These characters all live and work on Tortimer Island.
Holiday Visitors
[
edit
]
Holiday Visitors arrive in town on specific dates and host events.
Regular Visitors
[
edit
]
Regular visitors turn up in town randomly, during repeating events or when certain criteria are met.
Regular Visitors
Name
Image
Location
Description
Blanca
Random Visitor AC,DnMe+,WW,CF, April Fool's Day NL
Requires the player to draw her a new face AC,DnMe+,WW,CF, disguises herself as villagers to prank the player on April Fool's Day NL
Chip
Fishing Tourney DnM, AC, DnMe+, CF, NL
Judges the Fishing Tourney between Doubutsu no Mori and New Leaf (except for Wild World), and provides prizes.
C.J.
Fishing Tourney NH
Judges the Fishing Tourney in New Horizons and provides prizes.
Daisy Mae
Sunday Mornings NH
Sells Turnips in New Horizons.
Don Resetti
Game reset
Appears rarely when the player resets the game and will sometimes be present in the Resetti Surveillance Center.
Farley
Perfect TownAC,DnMe+
Appears in the fountain and provides a golden axe to the player.
Flick
Bug Off NH
Judges the Bug Off in New Horizons
Gullivarrr
Random Visitor NH
Washes up on the shore in NH. He strongly resembles Gulliver, but is dressed as a pirate captain. Provides the player with pirate furniture and clothing.
Gulliver
Random Visitor
Washes up on the shore except in WW and CF, in which he can be shot down while piloting a UFO. Provides the player with rare items from countries around the world.
Joan
Sunday Mornings DnM, AC, DnMe+, WW, CF, NL
Sells turnips in games between Doubutsu no Mori and New Leaf.
Kaitlin
Random VisitorWW,CF
Appears randomly in towns that have connected to Wi-Fi at some point requesting help reuniting with her daughter Katie.
Katie
Random VisitorWW,CF,NL
Appears randomly in towns that have connected to Wi-Fi. In Wild World and City Folk she will request help reuniting with her mother but in New Leaf she is exploring the world and requests the player to take her to a new town.
K.K. Slider
Saturday evening (all), every evening NL
Plays music and provides songs to the player during his Saturday sets, also DJs at Club LOL during the week in New Leaf.
Mr. Resetti
Game reset
Appears when the player resets the game. Optional in New Leaf
Nat
Bug Off CF, NL
Judges the Bug Off in City Folk and New Leaf
Pascal
Random Visitor WW,CF, on catching the first scallop of the day NL, NH
Trades scallops for exclusive ship themed items in New Leaf and Mermaid Series DIY in New Horizons
Phineas
Reasonable weather CF, badge criteria met NL
Gives out badges
Rover
On way into town (all except Wild World and New Horizons)
Tag Mode WW
May Day NH
Player set up
Saharah
Random Visitor
Provides exclusive wallpapers, flooring, and rugs in return for items, Bells or services depending on the game.
Serena
Fountain goddess in City Folk
Will trade axes for nothing, other axes, silver axes and golden axes fairly randomly.
Snow People
Built during winter
Pre-New Leaf provided items from Snowman Series, then additionally Ice Series, Winter Sports Set and other exclusive items
Wendell
Random VisitorDnM,AC,DnMe+,WW,CF, Dreams NL
Wallpaper DnM,AC,DnMe+, unique designs WW,CF, designs shares by other player in dreams NL
Wishy
Clear nights and meteor showersWW,NL
If wished on sends the player a piece of rare furniture.
Wisp
Semi-Random Visitor AC,DnMe+,CF,NH, Random then player summoned NL, Random NH
Grants wishes in return for services AC,DnMe+,CF or items NH, Found randomly in town in a lamp and can then be used each day to use amiibo figures and cards NL
Yellow bird
Bulletin Board when new news is available CF,NL, NH
Indicates when there is a new item on the bulletin board. Replaced with an owl during the night.
New Horizons weekly schedule

[

edit

]
Once the island is established, there can be one special visitor on the island each day (other than Celeste and Wisp, one or both of whom can appear any night). Certain visitors will set up a booth in the Resident Services Plaza while most others will wander throughout the island during their visit. Only Daisy Mae and K.K. Slider are (usually) guaranteed a specific day each week, Sunday and Saturday respectively. Several visitors are not guaranteed to appear every week, but those that don't visit one week will have priority for the following week. A week's schedule is determined at the beginning of the week. Before the 1.3.0 update, Kicks, Saharah, and Leif had guaranteed appearances each week, while K.K. Slider performed on Friday if there was an event scheduled for Saturday.
There may be exceptions to these criteria if there are special events during the week, which may include a character visiting multiple times. For example, C.J. could potentially appear as a weekday visitor as well as the host of the Fishing Tourney if scheduled for that Saturday. K.K. will also typically make an extra visit for a player's birthday if it doesn't coincide with his regular weekly visit.
New Horizons weekly schedule