amiibo phone
Jump to navigation
Jump to search

It has been proposed that this article be merged with
amiibo
.

It has been proposed that this article be merged with
amiibo
.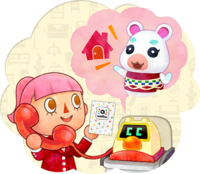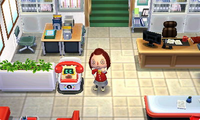 The amiibo phone is a utility in Animal Crossing: Happy Home Designer that appears in Nook's Homes. When the player uses the amiibo phone, they can scan an amiibo figure or card, which results in either the ability to build a house for that character or obtaining the Villager Statue. However, it cannot be used when a work day has been finished. It is unlocked when enough progress is made in Happy Home Designer.
The amiibo phone can only recognize Animal Crossing amiibo figures and cards from the original four amiibo card series. Attempting to scan an amiibo from outside the Animal Crossing series yields the message, "Beep! I'm sorry, but I'm afraid I can't connect with any animals who don't live in this town." Attempting to scan a card from the Welcome amiibo series freezes the game. This includes Carrie's amiibo card, despite her being a client within the game.