Vivian
Jump to navigation
Jump to search
This article is about the wolf villager. For the villager whose French name is the same as this villager's Japanese name, see Tammy.

Vivian
 

 

ヴァネッサ

 

바네사

 

范妮沙

 

Viviane

 

Viviana

 

Viviana

 

Viviane

 

Vivian

 

Вивьен

Birthday
January 26th
Phrase
piffle

More languages

 だわよ

(da wa yo)

 그러하다

(geureohada)

 喔呵呵

(ō hēhē)

 crocroque
 arruuu
 aú-aú
 scholli
 nonsens
 вздор

(vzdor)

Clothes
Subdued Print
Doubutsu no Mori e+
Dogtooth Tee
Welcome amiibo
Peacoat-and-Skirt Combo (Blue)
New Horizons
Saying
Onwards and upwards!
Main Games
Other Games

Vivian is a wolf villager with a snooty personality from the Animal Crossing series. She first appeared in Animal Crossing's Japanese Doubutsu no Mori e+ update, and then returned in the Animal Crossing: New Leaf Welcome amiibo update after being absent from the Animal Crossing series for over ten years. Additionally, she was planned to return in Animal Crossing: Happy Home Designer, as data for her can be found in the game, but she is absent from the final game.
Characteristics
Appearance

Vivian is a cream colored wolf that bears a resemblance to a German Shepherd, a breed of dog that is similar in appearance to wolves. She has a gray muzzle that matches the bottom of her feet and the tip of her tail. Her large, slanted eyes wear blue eyeshadow, with eyeshadow being a common feature found in villagers with the snooty personality. The back of her head is a pinkish brown color.
Personality
Below is a brief description of the snooty personality. For more information, click here.
Vivian has a snooty personality, meaning that she will appear rude and snobbish to the player at first, finding small things to criticize them and other villagers on. She will get along with cranky and other snooty villagers, but will be annoyed/angered by lazy and jock villagers, both of whom conflict with her lifestyle. Additionally, peppy villagers have the tendency to call her "old" or "boring" while speaking to her, which will quickly make Vivian angry.
Preferences
In New Leaf
Picture
Onwards and Upwards!
Biography
Siblings
Eldest of 3
Skill
Dusting
Goal
Makeup Artist
Fear
Bugs
Favorites
Clothing
Iconic
Flashy
Color
Red
Coffee
Type
Blend
Milk
Lots
Sugar
Three spoonfuls
Ideal Gifts for Vivian – Red Iconic
https://dodo.ac/np/images/9/93/VivianPicACNL.pngEldest of 3DustingMakeup ArtistBugsIconicFlashyRedBlendLotsThree spoonfuls
In New Horizons
Ideal Gifts for Vivian – Gray / Purple Gorgeous and Elegant Items
Name
Image
Price
Available From

No results
https://dodo.ac/np/images/9/93/VivianPicACNL.pngUnknownUnknownUnknownUnknownUnknownUnknownUnknownUnknownUnknownUnknown
House
In Doubutsu no Mori e+, Vivian's house initially consists of a near-complete Regal Series, matching her snooty personality. She also has a Phonograph and a Moving Painting.
In Animal Crossing: New Leaf - Welcome amiibo, Vivian's house/RV is designed after a mountain suite, reflecting her snooty personality.
In New Horizons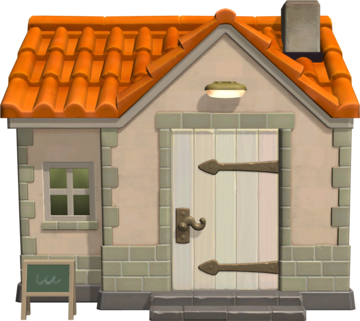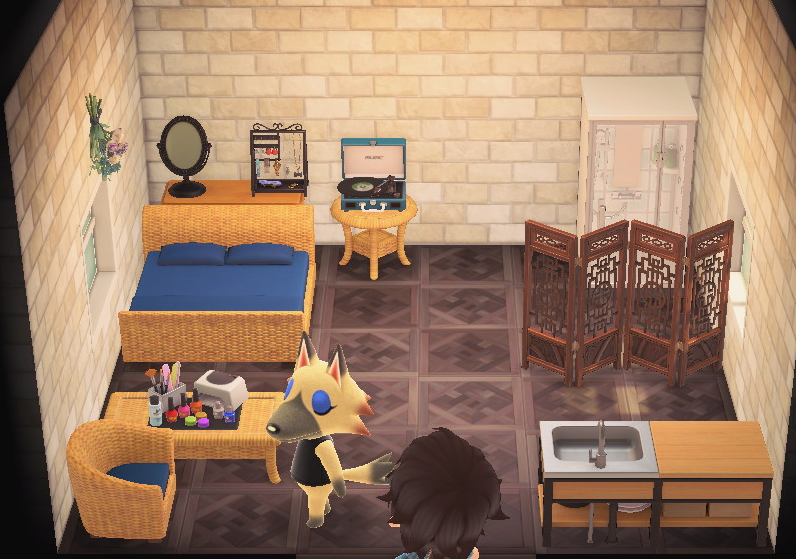 Style:
No style
Items:
Wallpaper:
 

White-Brick Wall

Flooring:
 

Dark Wood-Pattern Flooring

Music:
K.K. Cruisin'
Card profiles
Welcome amiibo card
Animal Crossing: New Leaf - Welcome amiibo card

Card back

#1 Vivian

Furniture


White Brick Wall


Parquet Floor


Alpine Bed


Basic Trash Can


Desk Mirror


Handbag


Hanging Chair


Natural Lamp


Natural Low Table

Gallery
Names in other languages
ヴァネッサ


Vanessa

-

---

바네사


Banesa

Vanessa

---




范妮沙

 

/

 

范妮莎


Fànnī Shā

Vanessa

---

Вивьен


Viv'jen

-

---

Vivian

-

---

Viviane

-

---

Viviana

-

---

Viviane

-

---

Viviana

-
ヴァネッサVanessa-바네사BanesaVanessaUnknownUnknownUnknown范妮沙范妮莎Fànnī ShāVanessaUnknownUnknownUnknownВивьенViv'jen-Vivian-Viviane-Viviana-UnknownUnknownViviane-UnknownUnknownViviana-UnknownUnknown
Trivia