Doubutsu no Mori e+
From Nookipedia, the Animal Crossing wiki
Doubutsu no Mori e+[nb 1] is an expanded version of Animal Crossing released on the Nintendo GameCube exclusively in Japan in 2003. In addition to all content from Animal Crossing, the game features new villagers, items, gameplay elements, and expanded functionality with e-Reader Game Boy Advance accessory.
Due to Nintendo of America's successful localization of Animal Crossing, Nintendo retranslated the game back into Japanese, added additional new content, and released it as Doubutsu no Mori e+ on June 27, 2003, nine months after the North American release of Animal Crossing. The game retailed for 6,800 yen[1] and sold 91,658 copies in its first week of sale; it went on to sell approximately 640,000 copies as of October 2004.[2] The game was never localized for North America or Europe, possibly due to the e-Reader's limited success outside of Japan or the development and upcoming release of Animal Crossing: Wild World. Despite this, many features introduced in Doubutsu no Mori e+ returned in later entries of the Animal Crossing series.
Doubutsu no Mori e+ was launched alongside the e-Reader+, a revised version of the original Japanese e-Reader that includes the GameCube connectivity introduced in the North American model. Doubutsu no Mori Card-e+, a new set of e-Reader cards, was released in three series from the game's launch until October 2003. The e-Reader+ and the first six cards of Series 1 were bundled with all copies of the game.[3]
New content[edit]
e-Reader functionality[edit]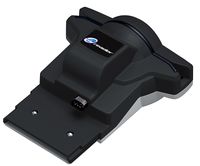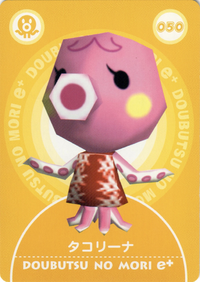 Doubutsu no Mori e+ now has in-game e-Reader functionality like in Animal Crossing. In addition to Doubutsu no Mori Card-e+ cards, Doubutsu no Mori e+ is compatible with Doubutsu no Mori+ Card-e cards.
e-Reader cards can be scanned at the following locations:
Villagers and islanders[edit]
There are a total of 66 new villagers and 18 new islanders, bringing the totals up to 284 villagers and 36 islanders. The only way to have any of the new villagers move in, or for any of the islanders to move to the island, is to scan their e-Reader card at the wishing well.
New villagers[edit]
60 new villagers can move to the player's town if their Doubutsu no Mori Card-e+ Series 1, Series 2, or Series 3 card is scanned. Most of these villagers have reappeared in subsequent games, however 11 villagers remain exclusive to Doubutsu no Mori e+ and therefore do not have localized names.
Promotional villagers[edit]
6 villagers are obtainable exclusively from promotional e-Reader cards included with other products or publications, 3 of which are crossover villagers. Bow and Meow are respectively based on the BowLingual and MeowLingual translation devices. Nindori was created in collaboration with Nintendo DREAM magazine, and is based on a 'Spice Orange' color variant of the Nintendo GameCube. Shinabiru is not a crossover, but was designed by Japanese cartoonist and manga artist Takayuki Mizushina as a caricatured self-portrait.[4]
None of these villagers have ever been localized nor have they returned as villagers in subsequent games in the series. They also do not have villager ID placeholders in the system used from Animal Crossing: Wild World-onwards, unlike other villagers introduced in this game that have yet to return to the series. Nindori, however, has since appeared in Animal Crossing-related manga in Nintendo DREAM, as well as in an Animal Crossing crossover promotion with the Monster Hunter series.[5]
New islanders[edit]
18 new islanders can appear only on Animal Island if their e-Reader card is scanned at the Wishing Well. All islanders share house layouts with one of the existing 18 islanders, but with a different wallpaper and carpet. Most of these islanders have returned as regular villagers in subsequent games, however 7 islanders remain exclusive to Doubutsu no Mori e+ and therefore do not have localized names.
The following 21 furniture items have been added, none of which can be reordered from the catalog.
Additionally, Tom Nook's store sells party poppers in the latter half of December in anticipation of New Year's Eve.
Insects and fish[edit]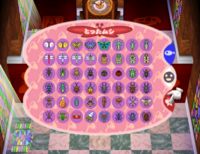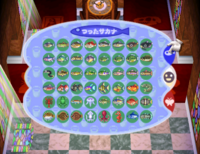 The following 16 insects and fish are introduced:
Diving beetle, flea, dung beetle, crab, hermit crab, coconut crab, Alexandra's swallowtail butterfly, and hercules beetle. The latter two insects can only be found on the island.
Dab, olive flounder, horse mackerel, seahorse, squid, octopus, puffer fish, and swordfish. The latter two fish can only be found on the island.
Three new songs are available from K.K. Slider: "My Place," "To the Edge," and "Forest Life." These songs were previously only heard when making an invalid request, but are now secret songs. K.K. will also perform a new song called "K.K. Birthday" on the player's birthday, which cannot be heard otherwise. The town's villagers will attend and celebrate with the player.
12 new songs are available from K.K. Slider only after scanning their corresponding e-Reader card: "Agent K.K.," "King K.K.," "K.K. Dixie," "K.K. Marathon," "K.K. Metal," "K.K. Rally," "K.K. Rockabilly," "Mountain Song," "Marine Song 2001," "Neapolitan," "Pondering," and "Steep Hill."
Additionally, every K.K. Slider song now has a corresponding live performance aircheck, which can be played on a stereo. These can be obtained from villagers at maximum friendship, or from special characters after scanning a song's e-Reader card.
Minigames[edit]
Three minigames, collectively known as Doubutsu no Mori e+: Doubutsu-tachi to Asobou!, can be accessed from the wishing well and played on the Game Boy Advance. They feature the player and the villagers living in town, and they offer unique rewards.
SD card support[edit]
Photos can now be taken in-game with the Z button and are saved to an SD card using the Nintendo GameCube SD Card Adapter. From there, the photos can be transferred to a PC and edited or printed.
Travel data can also be written to the card, transferred to a PC, and then sent to another player. The receiving player can visit the town, save the modified data, and return it to the original player. This allows players to visit other towns without the need to acquire other Memory Cards.
Town migration[edit]
Similar to the Data Moving Service in Animal Crossing, a player can migrate to an existing Doubutsu no Mori e+ town as long as there is a vacant house for them to live in.
After the migration, the player will retain their name, appearance, and birthday. They will also carry over their encyclopedia, custom designs, and their catalog. They will lose all savings and inventory items, as well as the contents of their house, and effectively begin again as a new character.
Doubutsu no Mori+ save data is unaffected by the migration; the original town and player characters remain available to play as normal.
Objects[edit]
Unique objects can be built around the town by Tom Nook and take the place of one of the signposts in town. A random set of three decorations is chosen on town generation. Many types of structures that can be built could only be unlocked from Redd via passwords on the game's official website. The service to generate passwords is now discontinued, however. Object Delivery Service Tool is a tool that replaces the functionality of the original service and can be used to generate passwords indefinitely.
Differences from Animal Crossing[edit]
Doubutsu no Mori e+ features many differences from Animal Crossing, largely with the addition of new content and refined gameplay mechanics. Although the game is primarily based on Animal Crossing, it does retain some Japan-exclusive content from previous games. This includes the dial-based typing system, certain furniture, and katakana characters on the town tune board. Additionally, Jane retains her original appearance from Doubutsu no Mori and Doubutsu no Mori+.
Controls[edit]
The lights in the player's house are now toggled by pressing any direction on the +Control Pad rather than the Z button, as that is now use for taking screenshots.
Interface[edit]
Doubutsu no Mori e+ uses a total of 72 blocks of data on a Nintendo GameCube Memory Card. 57 blocks are required for Town Data, 5 blocks for saved letters in the post office, 5 blocks for saved designs at Able Sisters, 1 block for NES game save data, and 4 blocks for travel data if this feature is used.
The game's font has been redrawn at a higher resolution.
Due to the higher font resolution, kanji is now incorporated into the game, considerably expanding the amount of usable characters; previous versions only made use of hiragana, katakana, Latin characters, and icons. The player can adjust their fluency with kanji from the options menu, which replaces hiragana with kanji where appropriate.
The clock has been redesigned.
The ink meter when writing letters or posts on the bulletin board has been removed.
Diaries that are dropped on the ground now appear as envelopes instead of brown paper bags.
Locations[edit]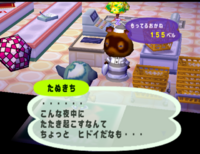 Villagers[edit]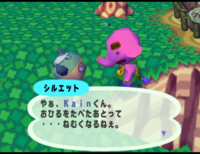 It is possible to become "best friends" with villagers after interacting with them a lot and performing many favors for them. Best friend villagers react to seeing the player by waving or calling out to them and can also give the player special items.
It is no longer possible to request errands from villagers. They can only be received randomly from general conversation, as is the case in all subsequent games.

Pursuant to this, when working for Tom Nook he no longer instructs the player to perform errands for the town's villagers in between the jobs he assigns.

The player can now eavesdrop on conversations held between two different villagers.
New villager dialogue is included that is conditional on the player's accomplishments, e.g., the size of their house, whether they own an island, the size of Tom Nook's store, etc.
Villagers can become ill and must be given medicine to treat their illness. Medicine can also be used to treat the player's bee stings.
When delivering gifts as an errand for a villager, the request-giver may ask the player for the recipient's feedback.
The gifts and letters that villagers may task the player to deliver can now be opened and kept, incurring their anger.
Lost items can be found on the ground and returned to villagers in exchange for a reward.
Villagers can have fleas, which can be removed by the player with the bug catching net.
Villagers now have a favorite and hated clothing type.
The Mario trophy and Luigi trophy have shorter bases. This change is carried over to the Australian and European versions of Animal Crossing, which released after Doubutsu no Mori e+.
The vibraphone is mirrored, tapering to the right instead of the left.
The following items return from Doubutsu no Mori+ after not appearing in Animal Crossing:
Interactivity[edit]
Flowers can now be picked up and held in the player's hand.
Jacob's ladders appear near the town's cliffs when a "perfect" rating has been achieved.
Players can make announcements using their personal Gyroid. These can be scheduled to play at a specific time or set to play after a certain amount of time has passed.
During the Fishing Tourney, Chip will now give the player a free fishing rod if they do not have one in their inventory.
Holidays are now identical to those in Animal Crossing, with Japan-exclusive events removed; however, Mom will send the player letters about Tanabata (Starcrossed Day) and Setsubun (Bean Day).
Villagers now wear hats on Christmas Eve and during the Harvest Festival.
The game's title theme has been remixed with added percussion.
Gyroids can now be set to sync with music that is playing in the player's house, and will now remain in sync even when the player leaves and returns.
Kapp'n's songs use different syllables to go along with what words he actually sings. This was present in Doubutsu no Mori+ with the old melody ("Marine Song 2001"), but in Animal Crossing all songs used the same syllables no matter the lyrics.
Miscellaneous[edit]
The color of the Nintendo logo when loading the game is now blue. In Animal Crossing, it is red, and in Doubutsu no Mori+, it is white.
As there was no Memory Card bundled with Doubutsu no Mori e+, the bonus grab bag originally that was included with the Memory Card and contained two NES games and a song from K.K. Slider now arrives in a letter from Mom when the player moves to town. Additionally, the included song is changed from "K.K. Love Song" to "K.K. Lullaby."
The coelacanth's shadow size is increased and it now only appears once per play session. Even if the player fails to catch it, it will not reappear until the save is reloaded.
The amount of debt that the player owes Tom Nook for each house upgrade has been altered. The final repayment is for the purchase of a private island. After paying off the loan for the island, Nook will offer to build the player a statue outside the train station, but the player now has the option to decline to have it built.
More custom designs can be saved at the Able Sisters.
A maximum of 800 letters can be saved at the post office, an increase from the 160 letters in Doubutsu no Mori+.
Related media[edit]
Doubutsu no Mori e+ received two tie-in manga: Doubutsu no Mori e+ 4koma Gag Battle and Doubutsu no Mori e+ 4koma Manga Ōkoku.
Gallery[edit]
Due to its Japanese-only status, some Western media outlets erroneously reported Doubutsu no Mori e+ as a sequel to Animal Crossing named "Animal Crossing 2" in December 2002, after an interview with Shigeru Miyamoto on the Japanese lifestyle magazine Sabra reported on a potential new game in the Animal Crossing series.[6] The claim was backed by a Famitsu article releasing details regarding Nintendo's upcoming game lineup for Japan in 2003 including どうぶつの森2 (Doubutsu no Mori 2, Animal Forest 2) as an explicitly tentative title for the game, with the only information being that it was a GameCube game with an undecided release date.[7] This Famitsu article was reported on by Western outlets such as GameCubicle[8] and IGN,[9] the latter of which created a web page for Animal Crossing 2 as a GameCube game, later incorrectly guessing that it was canceled in favor of Animal Crossing: Wild World[10] when in actuality it simply never was released outside of Japan.
Names in other languages[edit]
どうぶつの森e+
Doubutsu no Mori Ī-purasu
Animal Forest e+
External links[edit]
References[edit]
↑ 1.0 1.1 Nintendo. "どうぶつの森e+". nintendo.co.jp. Retrieved September 13, 2020.
↑ N-Sider. "Animal Crossing".
↑ Nintendo. "ハードをつなごう!~カードeリーダー+編~". nintendo.co.jp. Retrieved October 27, 2022.
↑ Capcom. "モンハン日記 ぽかぽかアイルー村DX". capcom.co.jp. Archived from the original on March 15, 2018. Retrieved January 31, 2022.
↑ IGN Staff (December 12, 2002). "Animal Crossing Lives". IGN. Retrieved November 14, 2022.
↑  (December 24, 2002) "『ピクミン2(仮題)』、『どうぶつの森2(仮題)』の発売が決定!". Famitsu.com. Retrieved November 15, 2022.
↑ Jim (December 24, 2002). "2003 Game Release Schedule for Nintendo GameCube and Game Boy Advance". GameCubicle. Retrieved November 12, 2022.
↑ Anoop Gantayat (December 24, 2002). "Nintendo Solidifies Japanese Lineup". IGN. Retrieved November 12, 2022.
↑ "Animal Crossing 2 - IGN". IGN. Retrieved November 12, 2022.