Animal Crossing: New Leaf
From Nookipedia, the Animal Crossing wiki

North American game cover

Main theme
https://nookipedia.com/wiki/File:NL_Title.flac
Developer(s)
Nintendo EAD
Publisher(s)
Nintendo
Platform(s)
Nintendo 3DS
Release date(s)
November 8, 2012[1]
February 7, 2013[2]
June 9, 2013[3]
June 14, 2013
June 15, 2013
Genre(s)
Simulation
Language(s)
English, French, Spanish
Japanese
English, French, Italian, German, Spanish
Korean
Modes
Single-player
Multiplayer (1–4 player local wireless/online)
Ratings
ACB:  G
CERO:  A
ESRB:  E
GRAC:  All
PEGI:  3
RARS:  0+
USK:  0

Media
Nintendo 3DS Game Card
Nintendo eShop digital download
File size
6,002 Blocks (digital download only)
Animal Crossing: New Leaf[nb 1] is a simulation game for the Nintendo 3DS released in 2012. It is the fourth main installment in the Animal Crossing series released outside of Japan.
An open-ended game, New Leaf follows a player-controlled human living in a town populated with animals and performing various tasks, such as interacting with characters and collecting items. Like all games in the Animal Crossing series, the game is synced to the system clock, which affects the gameplay based on the current time and day. New to New Leaf is the player taking on the role of mayor of the town, having more control over it than in previous games.
In November 2016, an update titled Welcome amiibo was released. The update includes new villagers, new items, and amiibo support.
Development and unveiling
Animal Crossing: New Leaf was unveiled at E3 2010 with a gameplay trailer. Shortly after, there was news that the player could be the mayor of the town,[4] with the goal being to make the town a better place to live.[5] A non-playable demo was also available on the show floor at Nintendo's booth as an example of the 3DS's 3D effects.
At E3 2011, a gameplay trailer was shown that showed off some of the game's new features.[citation needed]
The game's final English title was announced on April 21, 2012.[citation needed] Later, on October 5, 2012, a Japanese Nintendo Direct showcased more of the game's new features.
In early 2013, to promote the new game, Nintendo of America launched an official Animal Crossing: New Leaf website,[citation needed] containing information and trailers regarding the game.
Gameplay
Like all Animal Crossing games, New Leaf is an open-ended game where the player takes the role of a human moving into a town of animals. Tasks the player can partake in include socializing with villagers, collecting items, catching fish or bugs, and paying off their home loan. The game takes place in real-time, meaning the in-game time of day and year matches that of the Nintendo 3DS. The time of day and year affects aspects of gameplay such as whether or not shops are open or villagers are awake, seasonal events, and the availability of certain fish, bugs, and items. Up to four players can live in a town, with each one having their own house.
Plot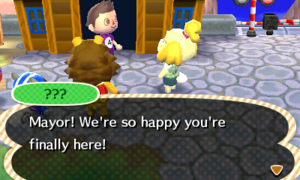 The player moves to town by train and is greeted by Rover, whose questions determine the player's appearance. When the first player arrives in town, they are greeted by Isabelle and three villagers, who believe them to be the new mayor of the town; all subsequent players are greeted as standard residents. Isabelle, the mayor's secretary, takes the player to town hall, where she gives the player a Town Pass Card and tells them to go to Tom Nook at Nook's Homes to buy a house. After the player chooses a location for their house, Isabelle tells the player they need to increase their approval rating as mayor, which is done by performing various tasks. When the player's approval rating reaches 100%, the ability to build public works projects and enact a ordinance is unlocked.
New features
Mayor
As mayor, the player can build public works projects, which are structures such as bridges, benches, and lights, that can be placed around town. The mayor can also enact a ordinance, which changes an aspect of the town, such as the opening hours of stores or the price of items. Only the first player to move to the town is mayor; all subsequent players are standard residents and cannot perform the duties of mayor.
Locations
New locations in New Leaf include Main Street, Timmy and Tommy's store, Nook's Homes, Kicks, Club LOL, the Garden Shop, Photo Booth, Dream Suite, Happy Home Showcase, Tortimer Island, and Re-Tail. Several locations from previous games, such as the museum and the Able Sisters, return as well.
Main Street is a hub located north of the town that contains various shops and buildings.
Special characters
For characters that were added in Welcome amiibo, see Animal Crossing: New Leaf - Welcome amiibo § amiibo and new villager.
Animal Crossing: New Leaf introduces thirteen new special characters, while only one old special character returns after being absent in both Wild World and City Folk.
New special characters
Returning special character
Villagers
There are a total of 333 villagers in New Leaf, which is 123 more than Animal Crossing: City Folk. 100 new villagers have been added, 24 have returned after being absent from Wild World and City Folk, and one—Champ—has been removed. Additionally, two new personality types—big sister and smug—and two new villager species—hamster and deer—have been added.
New villagers
Returning villagers
24 villagers return from Doubutsu no Mori, Doubutsu no Mori+, Animal Crossing, and the Japan-exclusive Doubutsu no Mori e+. Seven villagers (marked

below) initially only appeared in the latter game and receive localized names for the first time. Seven of the returning villagers have their personalities changed.
Charlise
Big sister bear
(formerly peppy)

Paula
Big sister bear
(formerly peppy)

Sylvia
Big sister kangaroo
(formerly snooty)
Events
Many events return from Animal Crossing: City Folk, while several minor ones are added.
Items
New Leaf introduces several new items, such as sea creatures that can be donated to the museum, statues that can be donated to the museum as art, wall-mounted furniture, bottoms, socks, and shoes. Additionally, the appearance of furniture can now be customized at Re-Tail.
Miscellaneous
New Leaf introduces many other new features for the Animal Crossing series, some of the most notable being:
Each personality now has its own pitch of Animalese; in previous games, the variants were limited to male, female, and cranky male.
The player can now pick the town layout while on the train when the game starts, rather than being assigned a random map.
House exteriors can now be customized to reflect various styles.
Flowers now drip with water once a watering can has been used on them, allowing the player to know whether they've watered it or not. After this, the flowers that have been watered start to shine.
The player can communicate with another player even if they are in a different town.
Villagers are now more active in the town environment, being capable of fishing, shaking trees, entering buildings, and more.
The player can now choose where they want their house.
Release
Animal Crossing: New Leaf was released on November 8, 2012 in Japan[1] and on February 7, 2013 in South Korea.[2] It was released internationally in June 2013, releasing in North America on June 9,[3] in Europe on June 14, and in Australia on June 15.
Bundles and special edition console
An Animal Crossing-themed Nintendo 3DS XL that contained the game pre-installed was released in North America, Europe, and Japan in 2013.[citation needed]
Promotion
GAME, a UK-based video game retailer, offered a pre-order bonus that contained a free Isabelle and Town Hall figurine.[citation needed]
Update history
Current Version:
Animal Crossing: New Leaf was the first game in the Animal Crossing series to receive updates via the Nintendo eShop. These updates, however, were primarily focused on fixing bugs in the game, with the exception of Animal Crossing: New Leaf - Welcome amiibo, which added new features and items to the game.
Version
Changelog
1.5[6]
November 23, 2016
December 1, 2016[7]
/ December 8, 2016[8]

Official changelog:

Fixed a bug that results in error code [004-6006] to be displayed when receiving a present from town hall or from the campground.
Additional issues were adjusted to make the game more comfortable to play.

1.4[6]
// November 2, 2016
1.1[6]
/ March 3, 2013[6]
/ June 2013

Initial release for North America and Europe.
Official changelog:

Fixed an issue that could cause an error to occur when launching a game
Fixed an issue that could result in a error when entering a police station.
Additional issues were adjusted to make the game more comfortable to play.

1.0
November 8, 2012
February 7, 2013

Initial release for Japan and South Korea
Animal Crossing: New Leaf - Welcome amiibo
In July 2016, an update for New Leaf including amiibo support was announced.[9] On November 2, the update was fully revealed as the Welcome amiibo update in a 16-minute Animal Crossing Direct, and it released the same day.[10]
The Welcome amiibo update several new features. One feature is the campground, where the player can purchase items from Harvey with MEOW Coupons, a new secondary currency, and visit the RVs of villagers and special characters. Additionally, Wisp returns, now allowing the player to scan amiibo card or figures; the player can choose to either bring the respective character to the campground in their RV if they are compatible, or if they are a villager, have them move into town. The update increases the villager count from 339 to 399, with 14 new villagers and 46 returning after being absent from Wild World, City Folk, and the base version of New Leaf.
Reception
New Leaf received generally positive reviews and ratings upon release. Its visuals were a key point for praise, with the 3D features well-commended. The more in-depth gameplay and details offered from previous Animal Crossing games were also viewed positively, along with the presence of enough new content to keep the game exciting.
Sales
In Japan, the game sold over 600,000 copies in its first week,[15] and went on to become the top-selling Nintendo 3DS game in the country at over 2 million units. Worldwide, New Leaf has sold 13.02 million units as of December 31, 2022.[16]
Related media
Animal Crossing: New Leaf received three tie-in manga in Japan: Tobidase Doubutsu no Mori: Minna de Seseragi Mura Life, Tobidase Doubutsu no Mori, and Tobidase Doubutsu no Mori: Harikiri Sonchō Ippē!.
Gallery
Music
Animal Crossing: New Leaf audio tracks
Trivia
Names in other languages
とびだせ どうぶつの森
Tobidase Dōbutsu no Mori
Animal Forest: Jump Out

---

튀어나와요 동물의 숲
Twieonawayo Dongmul-ui Sup
Animal Forest: Jump Out

---

Animal Crossing: New Leaf
-

---

Animal Crossing: New Leaf
-

---

Animal Crossing: New Leaf
-

---

Animal Crossing: New Leaf
-
Notes
References
External links
Animal Crossing: New Leaf on other wikis