Animal Crossing: New Leaf - Welcome amiibo
From Nookipedia, the Animal Crossing wiki

North American game cover

Main theme
https://nookipedia.com/wiki/File:NL_Title.flac
Developer(s)
Nintendo EPD
Publisher(s)
Nintendo
Platform(s)
Nintendo 3DS
Release date(s)
Title update:
November 2, 2016
Retail:
November 23, 2016
November 24, 2016
November 25, 2016
December 2, 2016
Genre(s)
Simulation
Language(s)
English, French, Spanish
Japanese
English, French, Italian, German, Spanish
Korean
Modes
Single-player
Multiplayer (1–4 player local wireless/online)
Ratings
CERO:  A
ESRB:  E
PEGI:  3

Media
Nintendo 3DS Game Card
Nintendo eShop digital download
Animal Crossing: New Leaf - Welcome amiibo[nb 1] is an updated version of the Nintendo 3DS title Animal Crossing: New Leaf with additional content, mainly the inclusion of amiibo support. Internally, the update is referred as version 1.4 of Animal Crossing: New Leaf. This is the first major update released for the game, arriving four years after the game's initial launch in 2012. The update was released worldwide on November 2, 2016 via the Nintendo eShop as a free digital download for existing New Leaf players. In addition, the update is included on physical retail Game Cards released on November 23, 2016 in Japan, November 25, 2016 in Europe, and December 2, 2016 in North America. The Japanese and European releases include one free amiibo card with every copy.
Announcements
[
edit
]
The update was first announced on Nintendo's official Japanese website on July 2, 2016.[1] It was later reaffirmed and announced for Western release via the September 1, 2016 Nintendo Direct.[2]
On November 2, Nintendo released an official trailer[3] and revealed additional information via a Nintendo Direct focused on the update.[4]
Features
[
edit
]
amiibo and new villagers
[
edit
]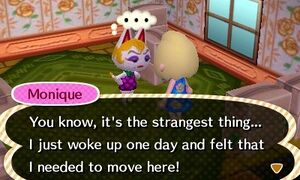 Welcome amiibo introduces amiibo compatibility to the game. Amiibo from the Animal Crossing series, as well as amiibo from several other Nintendo franchises, are compatible.
Villagers can be brought into New Leaf by summoning Wisp, who will prompt them to scan a character's amiibo to make him transform into said villager. Once summoned, the villager will set up camp in a new campground managed by a new special character, Harvey. At that point, the player can invite the villager to live in their town.
50 villagers from Animal Crossing and Doubutsu no Mori e+ who were absent in New Leaf and earlier entries also return to the series with this update. On November 11th, 2016, 50 new amiibo cards were released featuring these 50 returning villagers.
Other amiibo series are compatible, and scanning them introduces exclusive characters and items. For example, Splatoon amiibo will bring Inkwell, Cece, or Viché into the game, as well a series of Splatoon-themed furniture and clothing items. The Legend of Zelda series amiibo also work, adding Medli, Ganon, Epona, or W. Link. Monster Hunter Stories amiibo will add Felyne to the game. Six other new amiibo cards which add villagers from a crossover promotion with Sanrio were also released in Europe and Japan. However, the pack would not see an American release until March 26, 2021, when the Sanrio amiibo cards were exclusively released to Target in North America. This release, alongside restocks in Europe and Japan, coincided with New Horizons's 1.9.0 Free Update.[5][6][7]
Crossover villagers
[
edit
]
Welcome amiibo introduces 14 new villagers, and 2 returning villagers, all of whom are a crossover with other video game series or real-life brands and companies. The two returning villagers, Felyne and Filly, make their first appearance in a mainline Animal Crossing game after debuting in Happy Home Designer. Filly and Holden, a new crossover villager, could only appear as visitors to the campground for Japanese towns and cannot move into the player's town under any circumstances. All of the other crossover villagers can only be obtained by scanning their amiibo.
Returning villagers
[
edit
]
50 villagers return from the first-generation games. Thirteen villagers (marked

below) initially only appeared in Doubutsu no Mori e+. Five of the returning villagers have had their personalities changed.
Special characters
[
edit
]
One new special character, Harvey, is introduced, while three special characters return from previous games.
New special character
[
edit
]
Returning special characters
[
edit
]
amiibo Camera
[
edit
]
Players are able to place villagers into photographs they take with their console's camera.[8] The villagers available are from the player's town (including players), but amiibo cards can be used to summon specific villagers. They can be moved across the view (Circle Pad), rotated horizontally (in a small degree) and vertically (D-Pad); set smaller or bigger, farther or nearer; standing, sitting, lying, or running; showing emotions (unlocked ones) permanently until the revert button on the touch screen is pressed. The time and date or only date can be added by pressing A. Pressing X cycles through 3 lighting effects. The B button changes the borders of the image, and the Y button toggles the characters to look at the center of the screen. The 3D effect is not available.
Campground
[
edit
]
A new campground has been built in town, and is located on the eastern or western cliffs of town (depending on town orientation) and is managed by Harvey. Every day an RV will appear in the campground, with a special character inside. A second RV will appear when a Welcome amiibo villager or a compatible amiibo figure is scanned. Unique and hard-to-obtain items can be purchased from Harvey or the campers using MEOW Coupons.
Town initiatives
[
edit
]
Town initiatives are daily objectives that can be completed to receive MEOW Coupons, which is the currency used in the campground. A CAT Machine has been added outside of town hall and allows the player to receive MEOW Coupons after completing initiatives. The initiatives range from simple tasks such as donating fish and planting trees, to more involved objectives such as spending a large amount of Bells on a single purchase. They can be viewed on the TPC screen of the menu, where the completion time will also be listed.
Home improvements
[
edit
]
A new house expansion, a Secret Storeroom, can be purchased from Nook's Homes for 158,000 Bells. Accessed from the touch screen, it provides a vast amount of additional storage space that can hold up to 360 items. The storeroom's inventory is separate from the existing 180-capacity locker space, but can only be accessed while inside the player's house.
After purchasing the expansion, Tom Nook will introduce the player to Lottie. She will demonstrate how to arrange furniture using the touch screen, similarly to Happy Home Designer. After the tutorial is completed, the feature will be unlocked for use in the player's house, making it easier to arrange furniture and stack items.
In addition, clothes can now be displayed on the walls of a house, just as they can in Happy Home Designer.
The ability to sell the town
[
edit
]
When opting to rebuild a town, the player can now sell the town to Tom Nook for a large amount of Bells that can be transferred to help create a new town. The player's catalog can optionally be sold for additional funds, or transferred to the new town. The funds can either be received as a lump sum, or in small daily installments with additional interest payments of 10%.
Selling a town is only possible if the town has a prestige level of 3. This can be determined by the growth stage of the Town Tree (50 days and 50 hours). Public works projects that have been requested by villagers in the old town will automatically be available to construct in the new town.
Minigames
[
edit
]
The update includes two new minigames, Animal Crossing Puzzle League and Desert Island Escape. These can be played by activating a Nintendo 3DS XL/New Nintendo 3DS XL or a Wii U piece of furniture, respectively. High scores at these games reward the player with exclusive furniture and clothing sets, as well as MEOW Coupons.
Gameplay changes
[
edit
]
Interface
[
edit
]
Screenshots can now be shared to Facebook and Twitter directly from a dedicated button on the touch screen.
The TPC menu has been divided into tabs. One tab displays Town Initiatives while the other displays the TPC.
The 'Friends in Town' button is now a darker green color.
The text box when loading and saving now has a light blue border, instead of cyan, and a dark blue background.
Fruit can now be stacked while in the storage interface.
The storage interface will remember the last viewed page for each tab instead of resetting to the first page.
The search function of the catalog machine has been improved with keyword support, and no longer requires exact search terms to find items.
Furniture
[
edit
]
Seven new Fortune Cookie items are available, including a Wii U and New Nintendo 3DS.
Floating balloon presents now contain items outside of the Balloon Series once the full series has been obtained.
In PAL versions, the Balloon-Dog Lamp has been renamed to the Balloon-Poodle Lamp.
Cushions now function as chairs and can be placed on top of other chairs.
Stools now also function as tables.
Many new objects, including two-tile items, can now be placed on tables.
The Sprinkler and Lawn Mower can now be ordered from the catalog machine.
On the date of the town's anniversary, the player will receive a miniature model of the plaza tree.
Interactivity
[
edit
]
Players and villagers can sit on rocks.
Players can now shake trees while holding all tools except for Shovels and Axes due to players having to hold them with both hands.
Players can interact with items in front of them while sitting down.
Players can perform a short dance when interacting with the campfire campground. In Multiplayer, players rub their hands together.
Players will pose in a fighting stance when interacting with a Judge's Bell.
Beans that are thrown on the ground in the campground or Main Street will now attract nearby birds, who will land on the ground and eat them.
Club Tortimer now has a mute function, which allows the player to hide other players' text.
Visiting players are not able to remove ground designs set in the host town.
Miscellaneous
[
edit
]
Existing Dream Addresses are not compatible with the update. A new address must be generated at the Dream Suite to share a Dream Town, and addresses now contain letters in addition to numbers.
Villagers can now move out up to 10 days after announcing to the player that they are leaving town, instead of the previous 5 day period.
Villagers can no longer become sick. This change was done to prevent villagers from unexpectedly moving out, due to the sickness interfering with villagers pinging the player.
New villagers who move into town can no longer build their houses on top of ground designs. If there is insufficient space for a villager house to be placed, they will not move in.
An increased amount of former villagers and current villagers now appear on Main Street.
Scanning a Villager's amiibo will bypass the 16 former villager limit, and allow that villager to move back into town.
The filter used on custom designs is no longer used on designs placed on the ground, but is now used on designs used as wallpaper.
Using a Mii mask now changes the player's skin tone to match.
Fertilizer can now revive dead Perfect Fruit trees into regular Fruit trees. Leif will mail a free sample to the player.
The lights of the Happy Home Showcase sign are now much brighter and a cold white light, instead of a warm white light.
Timmy and Tommy no longer explain how to use Wrapping Paper every time the player purchases it. They will now only give the explanation the very first time it's purchased.
Placement restrictions for certain Public Works Projects have been altered so that they can be placed closer to immovable structures than before.
A ceremony is held in front of the plaza tree on the date of the town's anniversary.
The player is now allowed unlimited tries to pass Gracie's fashion check (previously the player was allowed three tries).
The Blowfish can now be sold for 5,000 Bells instead of 125 Bells.
List of new amiibo cards
[
edit
]
New Leaf - Welcome amiibo card series
Sanrio amiibo card series
Gallery
[
edit
]
Names in other languages
[
edit
]
튀어나와요 동물의 숲 amiibo+


Twieonawayo Dongmul-ui Sup amiibo+
Animal Forest: Jump Out amiibo+

---

Animal Crossing: New Leaf - Welcome amiibo

-

---

Animal Crossing: New Leaf - Welcome amiibo

-

---

Animal Crossing: New Leaf - Welcome amiibo

-

---

Animal Crossing: New Leaf - Welcome amiibo

-
External links
[
edit
]
References
[
edit
]